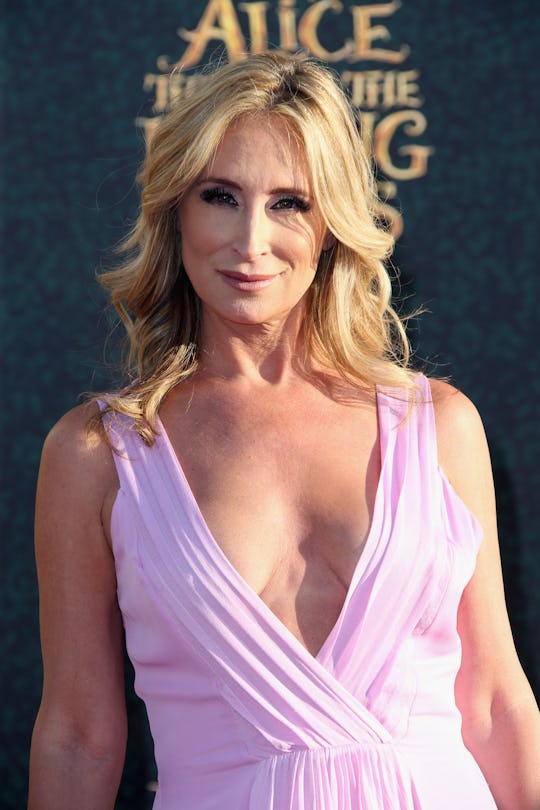 Frederick M. Brown/Getty Images Entertainment/Getty Images
Sonja's New Beau On 'RHONY' Has An Impressive Resume
Poor Sonja Morgan is just a little too polyamorous to fit into her Upper East Side enclave without triggering girl code violation accusations wherever she goes. First, she's not allowed to have feelings over the loss of her lover Tom D'Agostino to her roommate Luanne de Lesseps, and then, she accidentally hit it off with a 39-year-old French guy she'd initially flagged for longterm potential with her new roommate Tinsley Mortimer. Tinsley seemed to bounce back with a much younger boy of her own named Chad, but who is "Frenchie" on Real Housewives of New York? Sonja's new beau is even more cosmopolitan than Tom. (So there, Luanne.)
Frenchie's real name is Edgar Vaudeville, which is pretty much the only name suitable to compete with Lady Morgan. Although he was originally supposed to be a "come at eleven, leave at seven" kind of guy for Sonja, who had been more seriously dating an age-appropriate suitor named Rocco at the same time, Edgar was soon lingering for breakfast, showing his face around Tinsley and the staff, and spending all day with Sonja. He even moved his bags in and began rearranging furniture before Sonja, somewhat bewildered, admitted to herself that he was moving in. It seemed to catch her by surprise, especially considering that he doesn't quite meet her longterm partner checklist.
"I wanted somebody who already had children," Sonja said to the Daily Dish. "He says, 'Oh, I don't need to have children.' But then Carole [Radziwill], always being so sensible, goes, 'Oh, he'll want children! Look what happened with Demi Moore 10 years down the road. They always want children.'"
Sure enough, we see Edgar bring up adoption in an episode, much to Sonja's exasperation. But she did bring him to Luann's post-wedding party for uninvited wedding guests and introduced him to everyone, albeit pretty sheepishly.
Aside from being on different pages about the kids thing, Sonja and Edgar seem pretty compatible. He's a French-native hotelier who splits his time between New York and Paris. His two most recent accomplishments were reopening the bar at Hotel le Bristol in Paris as its artistic director, and working as an events and PR manager at the W Doha Hotel in Qatar, which was the first W Hotel to open in EAME (Europe, Africa, and the Middle East). He also serves on the board as a Junior Committee member at the New York Center for Children, a charity that fights child abuse.
As of this month, the couple is still going strong, but you can continue to watch their relationship unfold Wednesday nights on Bravo when Real Housewives of New York airs.