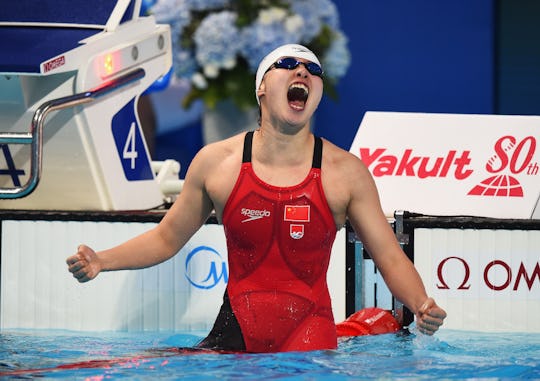 Matthias Hangst/Getty Images Sport/Getty Images
Who Is Fu Yuanhui? The Chinese Olympian Is Smashing Taboos
I know it's traditional to root for your home country in the Olympics, but one Chinese swimmer is making that very, very difficult for the rest of the world. Fu Yuanhui has been living her best life at the Rio Olympics, and people are taking notice. So who is Fu Yuanhui? She's a bronze medalist, a taboo smasher, and (apologies to Laurie Hernandez) the most expressive athlete at this year's Olympic games.
Fu was embraced worldwide last weeks thanks to her adorably goofy and GIF-able demeanor. America first fell in love with her after video was released of Fu being informed live, on-air that she'd qualified for the women's 100-meter backstroke final after she thought she'd come in fourth place. But she really stole the show during another interview this past Sunday. When discussing her team's fourth place finish in the 4-by-100-meter medley relay, the reporter observed that Fu appeared to have stomach pains, and Fu nonchalantly replied that her period had started the night before, and she was feeling weak and tired, although she wasn't trying to use it as an excuse. A Chinese athlete talking about her period on live TV is a pretty big deal, if you hadn't guessed.
Menstruation is still treated as a shameful subject around the world, particularly with respect to female athletes. And while some critics have recently become more outspoken about it, it's slow going in China, a country where more women still refer to their period as "a visit from my aunt," according to The New York Times. In fact, periods are so taboo in China, feminine hygiene product commercials are banned from TV during lunch and prime time, according to the Los Angeles Times.
The fact that a swimmer, in particular, spoke so openly about her period is especially notable because China is also notoriously tampon-averse. The country does not manufacture any tampons, and the only ways to procure them are either to buy the sole imported brand, o.b., from high-end stores, or to purchase them online. According to BuzzFeed, only 2 percent of Chinese women use them. Chinese "sexologist" Li Yinhe told the L.A. Times that this is largely due to a national fetishization of virginity, and the misplaced belief that tampons "take" women's virginity (for the record: using a tampon is not a sex act, and virginity is a construct). Any female athlete who's unashamed to speak about menstruation deserves a round of applause, but Fu, in particular, is to be commended. Now somebody get that lady a heating pad.