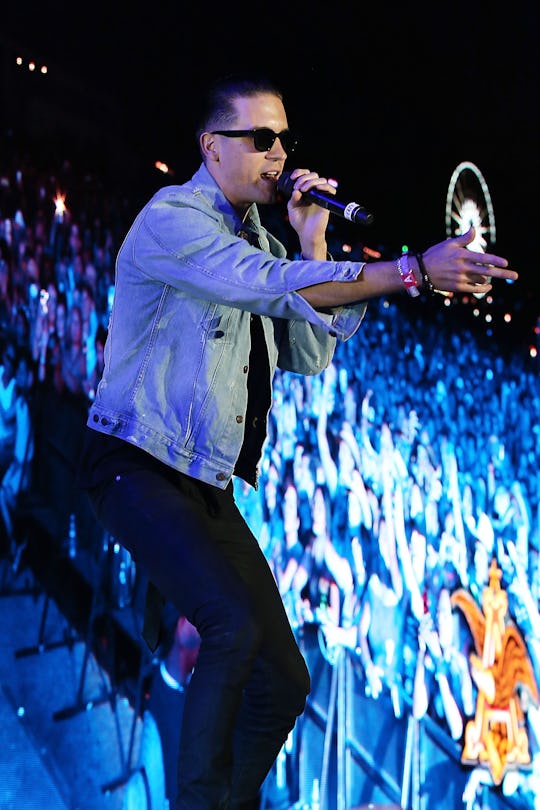 Joe Scarnici/Getty Images Entertainment/Getty Images
Who Is G-Eazy At The VMAs? He'll Be Performing Alongside Britney Spears This Year
This year's VMAs will be filled with performances by some of music's best and brightest including the one and only Britney Spears who hasn't performed at the VMAs since 2007. At this year's award show, Spears will be performing her latest single "Make Me..." featuring artist G-Eazy. If you're wondering who G-Eazy is at the VMAs, then you are probably not alone. The rapper is making a big splash in music this year, and if you haven't heard his music yet you're definitely missing out.
G-Eazy, who's real name is Gerald Earl Gillum, is from Oakland, California and started out as a record producer when he was in college. From there G-Eazy got into rap and hip-hop music, and began to release his own mixtapes. In August 2011 he released his mixtape, The Endless Summer, to limited success and then went on a tour of the same name. He followed that up with the release of his first official album, Must Be Nice, in 2012 and then in the summer of 2014 he released his first album with a major record label, These Things Happen. Since then G-Eazy has slowly been making a name for himself, and with the release of his third album, When It's Dark Out, at the end of last year, G-Eazy has cemented himself as a major rap artist.
According to Billboard, When It's Dark Out debuted at Nos. 1 and 5 on the Top R&B/Hip-Hop Albums and Billboard 200 charts. His latest single off the album, "Calm Down," has topped the Billboard + Twitter Trending 140 after the music video was released on August 23. It's clear that people are loving G-Eazy's music and his fan following seems to grow with every new single. Performing at the VMAs will definitely bring in even more fans for him and will no doubt make him even more well known.
Getting to share the stage with Spears will definitely be an amazing experience for G-Eazy, but it can also be a career game changer. After the VMAs, we'll probably be seeing and hearing a lot more from G-Eazy very soon. Make sure to tune into MTV on Sunday, August 28 at 9 p.m. ET to see Spears and G-Eazy's performance. You don't want to miss it!