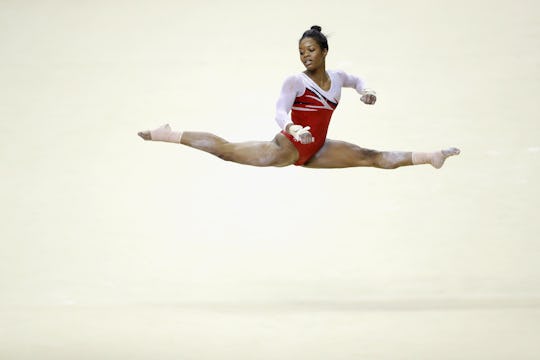 Ronald Martinez/Getty Images Sport/Getty Images
Who Is Gabby Douglas' Coach? The Olympian Made A Last-Minute Change Just Before The Games
The 2016 Summer Olympic Games in Rio de Janiero, Brazil, kick off on August 5, and Olympians are getting ready to compete on one of the biggest stages in sports. One of the most high-profile athletes from the U.S. is the first black gymnast to win the Olympic all-around, Gabby Douglas, who struggled in the Olympic trials and just made a last-minute change in coaching. So who is Gabby Douglas' coach? Christian Gallardo is a coach in her home gym, Buckeye Gymnastics.
Buckeye Gymnastics is where Douglas has trained with Kittia Carpenter for the past two years. The relationship has been so close, Carpenter even appeared in Douglas' docu-series on Oxygen, Douglas Family Gold, according to NBC. But on the first day of the Olympic trials, Douglas showed up on the floor with coach Christian Gallardo, another coach from Buckeye, surprising fans.
Douglas had changed coaches before, but the shift so close to the Olympics raised more than a few eyebrows in the sport. In response, Douglas' mother, Natalie Hawkins, explained to Inside Gymnastics that Douglas isn't making some big, drastic coaching change, but instead selecting the best one of her coaches to see her through Olympic competition:
Gabrielle hasn't made a coaching change. Christian Gallardo has been Gabrielle's coach since she arrived at Buckeye. Since there is only to be one coach alongside Gabrielle throughout the Olympic process, Christian is that coach based on their longtime coach/athlete bond, chemistry and strength together.
The preference, Douglas added, in addition to her working relationship with Gallardo, also has to do more with needing a strong spotter. Gymnasts are only allowed one coach on the floor of the event, according to the Daily Mail. And Douglas said that made Gallardo her choice.
"We always thought it was a good idea, especially leading into trials," she said, according to the Mail. "We always thought it was a good idea, especially leading into trials. We do a lot of numbers and a lot of reps."
And there's another challenge facing Douglas. After barely making the Olympic team, she's battling a serious injury heading into the Rio Games. The New York Times reported Douglas suffered a knee injury during a vault at the world championships in October, and she was on crutches for three months following the competition.
Her mother said keeping the injury a secret was just a way to protect Gabby, according to the Times:
We haven't spoken about them publicly because we needed her to focus on what she needed to do, instead of having to answer questions. It takes energy out of her.
Douglas will join her Olympics gymnastics teammates Simone Biles, Madison Kocian, Laurie Hernandez, and Aly Raisman, and three alternates, MyKayla Skinner, Ragan Smith, and Ashton Locklear, in Rio, according to NBC Olympics.