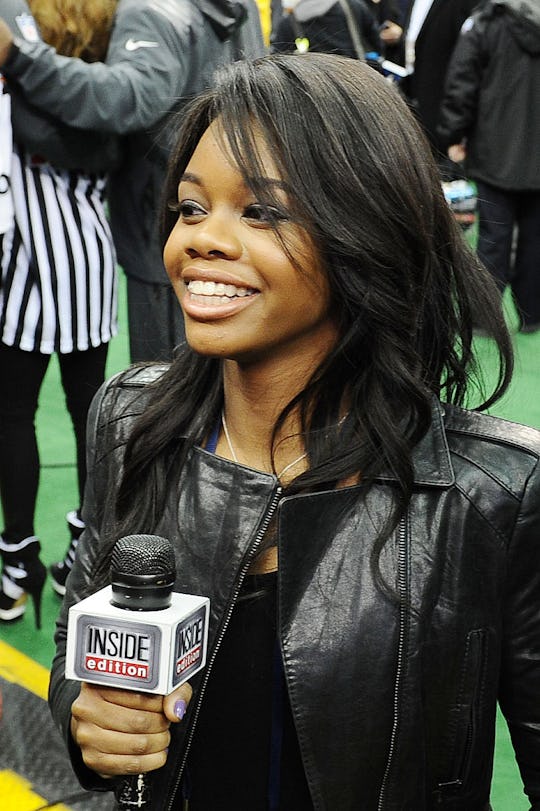 Maddie Meyer/Getty Images Sport/Getty Images
Who Is Gabby Douglas Dating? She's Very Open About It
As she aims for another set of gold medals in round two of her Olympic gymnastics career, Gabby Douglas has a lot to focus on. At only 20 years old, Douglas became somewhat of a fixture in the 2012 Olympics. Part of the "Fierce Five," Douglas won a team gold medal as well as the individual all-around gold — a pretty big deal, considering that this made her "the first woman of color of any nationality and the first African-American gymnast in Olympic history to become the Individual All-Around Champion." Not bad for her first games, and definitely not bad for a 16-year-old. America's love for the gymnast grew not only from her impressive height on the uneven bars (earning her the nickname "Flying Squirrel") or her earnest smile, but also from the genuine, positive manner with which Douglas treats her fans. Her new docu-series Douglas Family Gold shines light on the support system that's given her this optimistic view. Douglas Family Gold covers everything from competitions to Douglas' close relationship with her outspoken mother. The series also helps answer the very personal question: who is Gabby Douglas dating?
In episode 3 of Douglas Family Gold, Douglas is driving with two of her sisters in her car. In a studio interview, Douglas explains:
No I don't have a boyfriend; I don't have time. All of my attention and focus was spent, you know, in the gym, training, so I was already in a relationship, and his name was Jim. . .Nastics.
What an endearing (yet terrible) pun. Rather than chide her on her single status, Douglas' older sister Arielle Hawkins elaborates that Douglas "needs a companion, but a boyfriend takes too much work." Douglas adds, "I'd feel bad for the guy," noting that she's always traveling and competing. Their solution to the dating "issue?" Douglas should get a companion that requires a little less maintenance – a cat. The group then discusses what Douglas should name the new pet.
A quick scan of her Instagram and Twitter accounts reveals that Douglas' few non-gym hours are spent elsewhere, not dating. For one thing, Douglas loves the Twitter account @itsfoodpics, retweeting yummy images of pastel-colored milkshakes, sushi platters, and this decadent waffle:
Douglas also recently launched her own line of emojis, called "gabbymojy." Favorites include the colorful athletic tape and that perfect split on the balance beam.
Douglas, alongside fellow U.S. women's gymnastics star Simone Biles, also shot a gorgeous August 2016 cover for Teen Vogue.
It's easy to tell that Douglas is a bit too busy to worry about dating. A guy couldn't keep up with this superstar, who's looking to be the very first U.S. gymnast to earn a second gold medal, back to back. Keep on keeping on, Douglas. You're our new and improved #goals.