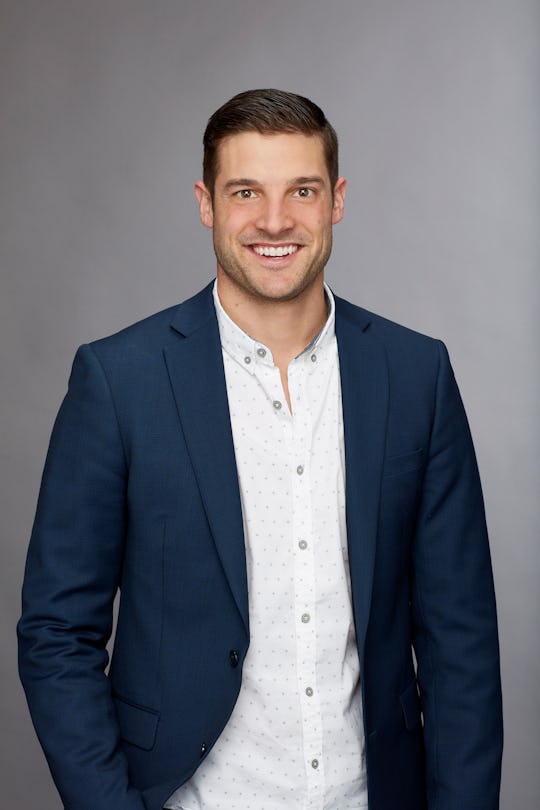 ABC/Craig Sjodin
Will This Hunky Outdoorsman Be Becca's Choice On 'The Bachelorette'?
An outdoorsman with a spot-on Chris Farley impression. That's how Garrett, one of The Bachelorette contestants, is being described on ABC's official website. The 29-year-old medical sales rep is very handsome, as you can see from his bio pic above. But, looks aren't everything, are they? So, who is Garrett on The Bachelorette? Lets do some investigating!
According to his ABC bio, Garrett was "raised in a small town in Central California," and is a "true outdoorsman who loves fly fishing." But his outdoor hobbies don't end there! Garrett also loves to hike and go snowshoeing. For those of you who, like me, are not exactly at one with nature like Garrett is, snowshoeing is basically just wearing special footwear to walk over snow. Apparently it's a great workout if you're into that sort of thing!
Garrett's bio finishes with this fun fact: that he's "excited to find love" with The Bachelorette, aka Becca Kufrin. Is Becca into fishing, hiking, and being outdoors all of the time? And what are her thoughts on the late, great comedy actor, Chris Farley? If she really, truly is into all of these things than Garrett's quest for love might be on the right track!
So, what else do we know about Garrett besides what little info ABC has provided us with? Thankfully we have Google, which provided a few more intimate details about Becca's potential future husband.
For starters, Garrett is a Pisces who was born on February 24, according to OkHereIsTheSituation.com. The site also claims that while he was raised in California, as previously mentioned, he now resides in Reno, Nevada which is about a six hour drive from Las Vegas. Garrett also reportedly played baseball in college while attending the University of Nevada, as the site claims. Garrett is still listed on the Nevada Wolfpack website, which also confirms that he is 6'2". The roster site also reveals that Garrett is the only Nevada player to start all 55 games in the same position (third base) during the 2011 season.
Moving on from sports, Garrett also used to be on social media but has since deleted his profiles. The Bachelorette contestant was known under the unverified username of @garrett_yrigs12 on Twitter and Instagram. Sadly it seems that both accounts have been removed and/or temporarily deactivated from the social media platforms as the day this article was written (May 25). Hopefully this is just temporary, and Garrett's accounts will be undeleted and/or reactivated after The Bachelorette airs. As much as it sucks that fans are unable to follow Garrett as they watch him vie for Becca's affection throughout the season, it was probably pretty smart of him to go off the grid.
In fact, it wouldn't be that surprising if ALL of The Bachelorette contestants went into a digital detox while the show was on air. After all, the internet is full of very clever sleuths who are looking for any and every opportunity to find out the mystery of who Becca picks before it's revealed on the show. Because of that, Becca and all of the contestants have to be very, very careful what they post online between the May 28 premiere of The Bachelorette and it's season finale. That sounds like it would be a very slippery slope -- the kind where you land on your butt bone and it hurts for days after.
While Garrett does seem like a great guy, and a smart guy for going offline, we still have to watch and wait to find out if he is everything Becca has been looking for since being dumped by you-know-who.