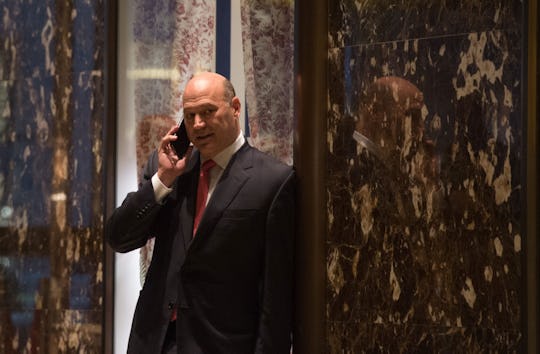 BRYAN R. SMITH/AFP/Getty Images
Who Is Gary Cohn? Trump's Next Cabinet Pick Goes Against His "Drain The Swamp" Promise
When it comes to the kind of folks President-elect Trump has tapped to fill the top spots in his government, they generally fall into two categories: plutocrats and generals. There are exceptions, like South Carolina Gov. Nikki Haley, but for the most part it's rich people and military brass Trump will have surrounding him as president. Who is Gary Cohn? Trump's latest Cabinet pick, goes against his "Drain the Swamp" promise yet again, and fits nicely into Trump's previous appointment pattern.
Cohn isn't a general, he's the second in command of Goldman Sachs, an investment bank Trump heavily criticized on the campaign trail, even accusing his rival, former Secretary of State Hillary Clinton, of meeting with bankers like Cohn "to plot the destruction of U.S. sovereignty in order to enrich these global financial powers, her special interest friends and her donors," according to the Business Insider. He also claimed Goldman Sachs had "total, total control" of Clinton and his GOP primary rival Texas Sen. Ted Cruz, according to CNN.
Now it looks like it's Trump putting Goldman loyalists in charge of the country, despite the fact it was attacks fueled by Americans' distrust of the big banks that helped him win the White House. Take a look at this Gallup poll from September:
But that was just all campaign talk. Now Cohn becomes the third Trump Cabinet pick with deep ties to the bank; Cohn, Senior Adviser Steve Bannon, and Steve Mnuchin, whom Trump picked to be his Treasury Secretary, according to CNN. "On the campaign trail, he ripped Wall Street and vowed not to let Wall Street control the country," Jaret Seiberg, a Cowen & Co. analyst told CNN. "Yet he picks a former Goldman Sachs partner as Treasury secretary."
Now Goldman's Chief Operating Officer and No. 2, second only to CEO Lloyd Blankfein, Gary Cohn could be added to Trump's Cabinet. Trump has offered to let Cohn head up the National Economic Council, CNBC reported.
According to the department's site, the NEC works to "coordinate policy-making for domestic and international issues, to coordinate economic policy advice for the president, to ensure that policy decisions and programs are consistent with the president's economic goals, and to monitor implementation of the president's economic policy agenda."
CBNC reported that it's still unclear whether Cohn will accept the job, which could be a step down for the man in line just behind Blankfein to take over Goldman Sachs. But CNBC also said there were discussions going on at Goldman last month about Cohn leaving the bank.