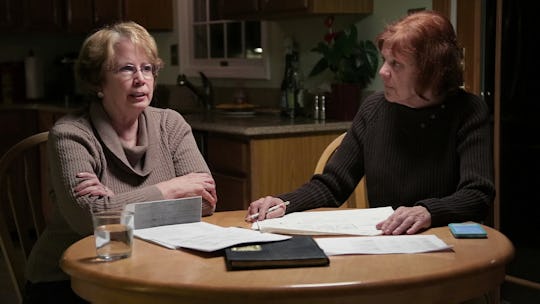 Courtesy of Netflix
Gemma Hoskins Is Searching For Answers On 'The Keepers'
The 1969 murder of Baltimore nun Sister Cathy Cesnik was a case that went unsolved for years. No one knew who killed her or why and the case went cold before any solid leads could be discovered. Then, decades later, the search for the truth began anew. Except the investigation wasn't launched by the police; it was motivated by civilians, specifically women who had known and respected Cesnik, who had been inspired by her when she was their teacher at Archbishop Keough High School. These women took it upon themselves to unearth the details of Cesnik's disappearance so they could try to finally find some answers. They all feature in Netflix's new true crime series about the case. But who are they? Who is Gemma Hoskins on The Keepers?
Hoskins was the one who restarted the investigation into Cesnik's murder after a conversation with journalist Tom Nugent, who had also been intrigued by the case for years. Hoskins was a senior at Keough when Cesnik disappeared, and she had always been fond of her young, fun English teacher. "She was the reason I became a teacher," Hoskins told The Huffington Post. "I've never met anyone like her." The case had been on Hoskins' mind for years, but it wasn't until she retired that she finally had the time to give the case her undivided attention.
Her decision was also partially inspired by her late husband, who died when they were in their 30s from cancer. He had always been concerned with helping people, according to Hoskins, and she explained, "He always said, 'When we get older and don't have to worry about money, we need to take care of other people.' It's important to me to honor that."
With that in mind, Hoskins reconnected with another former student of Cesnik's named Abbie Schaub and the two of them began to reach out to other classmates for any useful information. "I think I'm Nancy Drew," Hoskins joked in the same interview with The Huffington Post.
Hoskins and Schaub started a Facebook group for that purpose, and it grew and grew as women began to share stories from their time at Keough. Eventually the focus of the group shifted slightly from investigating Cesnik's murder to making sure all those who were allegedly abused at Keough had a way to make their voices heard. "My objective is that the truth be told for all the innocent victims," Hoskins said during a HuffPost interview. "If Cathy Cesnik were standing here, she would say that's what she would prefer."
The decision Hoskins (and Schaub, and all the other women involved) made to find the truth shows how ordinary people can do extraordinary things.