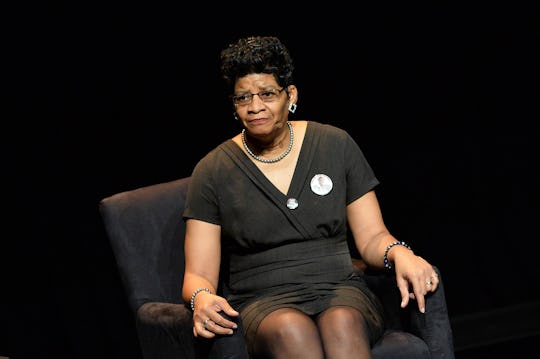 Slaven Vlasic/Getty Images Entertainment/Getty Images
Who Is Geneva Reed-Veal? Sandra Bland's Mother Is Set To Speak At The DNC
It has been one year and 10 days since Sandra Bland, a 28-year-old black women, died under suspicious circumstances in a Texas jail. She had been pulled over after allegedly neglecting to signal a lane switch while driving, was reportedly arrested without ever having broken the law, and was found dead three days later alone in her cell. In the days after her death, #SandraBland was tweeted over 200,000 times. The African American Policy Forum (AAPF) issued a report in response to her death called Say Her Name: Resisting Policy Brutality Against Black Women, sparking another social media movement with #SayHerName. The AAPF used this report to outline ways to get communities and individuals involved in racial justice advocacy. Geneva Reed-Veal has taken up the mantle of bringing attention to police brutality against black men and women in the year since Sandra Bland's death. Geneva Reed-Veel also happens to be Bland's mother.
Reed-Veel has been on a mission to carry out her daughter's legacy of fighting social injustice since her death last year. She announced to a congregation of mourners at a memorial service for Bland that once her daughter was buried she was "ready...this means war." She has kept her word, appearing in front of congressional leaders at the Library of Congress as part of the first symposium for the Congressional Caucus on Black Women and Girls, as well as being outspoken about her family's struggle in the wake of her daughter's death.
In February, Reed-Veal stood with the mothers' of Trayvon Martin, Eric Garner, Dontre Hamilton, and Jordan Davis in South Carolina as they all announced their support for Democratic Presidential nominee Hillary Clinton. Each mother had lost a child to police brutality, and each had a chance to explain why Clinton was their choice for President of the United States. Reed-Veal took an unconventional approach and read a poem:
Selfless in sitting down with a room of mourning mothers, Who have violently lost their children-both sons and daughters.... From now until November let's fiercely support this lady!
Reed-Veal explained that she didn't support Clinton solely because she took time to talk with the grieving mothers, but because she advocates for gun control and closing the gender pay gap. She even joined Clinton at another campaign rally in her home state of Illinois.
Reed-Veal will continue to campaign for Clinton at the Democratic National Convention this week. She will once again be joined by her fellow Mothers of the Movement in Philadelphia speaking about how Clinton has spent a life time fighting for children and families. Former President Bill Clinton will also be taking the stage on Tuesday and I'm sure he knows he's in good company.