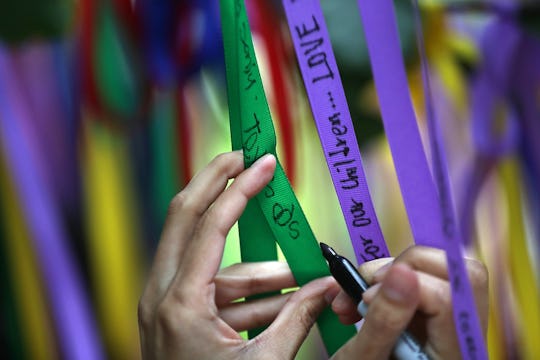 Justin Sullivan/Getty Images News/Getty Images
Who Is Geraldo A. Ortiz-Jimenez? The Orlando Victim Was A Humble & Hardworking Student
Sunday, June 12, now marks the day when the deadliest mass shooting in the United States took place at an Orlando LGBT nightclub, claiming 49 lives and injuring dozens more. One of those victims who died in the shooting was Geraldo A. Ortiz-Jimenez, a 25-year-old who was known by his friends as Drake and had traveled from his home in Puerto Rico to see one of his favorite pop stars, Selena Gomez, perform live. Friends and family have described him as a sweet, humble, and hardworking man who aspired to be a professional dancer.
"He was a very sweet guy," his niece Tiffany Ortiz told The New York Times. "He always made everyone laugh and he was very kind of everyone."
Ortiz went by Drake on Facebook and posted frequently on social media of him working out and singing Selena Gomez hits at the gym. Throughout his vacation in Orlando, he posted photos and statuses on social media, according to The Orlando Sentinel, just before Ortiz watched Selena Gomez and DNCE perform on Friday night before the shooting, he had snapped photos with a wax figure of the pop star at Madame Tussauds.
"With the love of my life," Ortiz captioned the photo in Spanish on his Facebook account on Thursday.
Ortiz's niece told The New York Times that her uncle was so excited to see Selena Gomez that he had talked about the show nonstop in the months leading up to his vacation. "He loved her, he absolutely loved her," she said.
Many have shared their condolences on Ortiz's Facebook page, writing messages and memories on his videos and photos from Friday night's concert.
According to Ortiz's social media accounts, the 25-year-old studied law at Universidad del Este in Carolina, Puerto Rico and graduated from J.P. McCaskey High School in Lancaster, Penn., in 2010.
A friend from college, Kevin Ortiz, told The St. Louis Dispatch that Ortiz worked out frequently and was conscious about staying fit to work towards his dream of being a professional dancer.
"He was humble, simple and charismatic," friend of Ortiz Gregory Fabian told The Orlando Sentinel. "He was all good, hardworking, funny and a dreamer."
According to his Facebook page, he was originally from Santo Domingo in the Dominican Republic. Ortiz was very proud of his heritage, posting various hashtags, such #proud and #Dominican, on his photos on Instagram and Facebook.
As our nation continues to mourn following Sunday's tremendous tragedy, we can keep the memory that Ortiz leaves behind in our hearts as an inspiration to live life as he did — with a proud and humble outlook on life capable of uniting a nation with love.