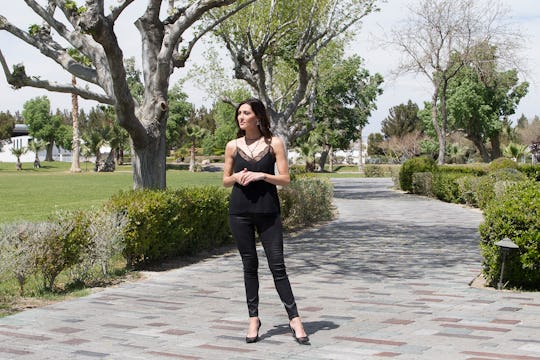 Paul Hebert/ABC
Hometown Dates On 'The Bachelorette' Are Right Around The Corner
Now that the duds are gone and the fame-hungry contestants have been weeded out, Becca Kufrin has narrowed more than two dozen men down to a select four. One of the men could be the one she spends the rest of her life with, but they're all part of the group of who's getting hometown dates on The Bachelorette. The remaining four guys are Becca's top picks and at this point, I could probably see her with any one of them. Only one will get the chance to propose at the end of it all, but before that happens, they each have to bring Becca home to meet their respective families and have all kinds of difficult and awkward conversations.
Of the men who started off this season with a bang ready to "do the damn thing," the remaining guys left are Colton Underwood, Blake Horstmann, Garrett Yrigoyen, and Jason Tartick. If someone had told me at the beginning of the season that Jason would be a frontrunner, I probably wouldn't have believed it. But eventually, he made it to the front of the ranks and he and Becca developed something real.
Of course Becca also caught feelings for the other three men, so I guess they're all equal contenders now. It all depends on how hometown dates go at this point and Becca has four of them to get through before she makes yet another elimination before fantasy suite dates.
I will be the first to admit that I have a soft spot for Colton. I don't know if it's his boyish good looks or the fact that he seems so genuine all of the time, but I've been rooting for him all season — even through the Tia Booth situation. So to see him make it this far definitely gives me some hope about his future with Becca. Becca will have to get through meeting his family first, but from the promo for the episode, it seems like doing so could help Becca start to see their future together in a more concrete way.
Blake is another one of Becca's guys who I've been watching all season long. Like Becca on Arie Luyendyk Jr.'s season of The Bachelor, Blake got the first one-on-one date of the season and made it this far. That could mean that he has an even greater chance of making it even further, but if not, I fully support a Blake for Bachelor campaign because he is Bachelor Nation's sweetheart and deserves to find love.
In the hometown dates promo for The Bachelorette, Becca has what seems like a serious sit-down talk with Garrett's dad. Now, nine times out of ten these serious discussions end up being a farce, but in the clip, his dad tells Becca that after Garrett's past heartbreak, he doesn't want to see his son that way again. Which is totally understandable, but it could be something that almost pushes Becca away out of fear of hurting him again herself.
When I said Jason was an unexpected frontrunner, I didn't mean that he's not capable of making it to the end, but there were so many strong contestants at the start of the season that he kind of snuck up on fans. Becca seemed to take a strong liking to him though and not once has her feelings for him wavered, which is the best sign you could hope for going into hometown dates.
After hometown dates are over, Becca will have to make yet another extremely difficult decision and send yet another guy home before the remaining three meet her family and get ready for the fantasy suite dates. Basically, the season is somehow almost over already and of the guys getting hometown dates on The Bachelorette this season, I can't imagine any of them leaving just yet.