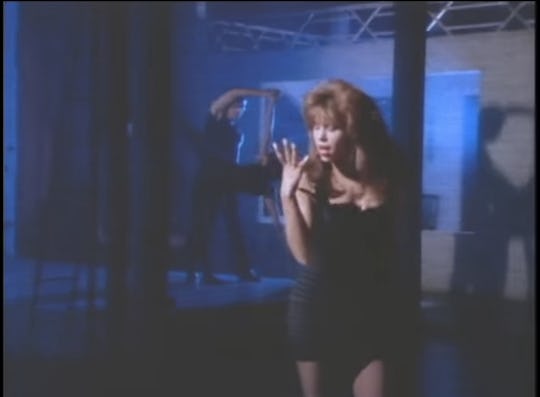 YouTube
Who Is Gianna Isabella's Mom? Brenda Starr Has Plenty Of Her Own Fans
On Wednesday's American Idol auditions, a moving rendition of House of the Rising Sun by contender Gianna Isabella had Twitter buzzing. More importantly, everyone was wondering about her number one fan, who stopped by the judges' table to cheer her on. So who's Gianna's mom, Brenda Starr anyway?
Brenda Starr is a pop star from the late eighties and early nineties and she was all the rage. If you were into that sort of thing. She has a perfect '80s pop music story. After running into Harry Belafonte in New York City, Starr was able to score a role in the 1984 movie Beat Street and earned enough attention with that to score a record deal. By 1987, her biggest hit "I Still Believe" made it to the 13th spot on the Billboard Hot 100. She had a whole bunch of other hits, too, but you'll have to Google them on your own because here's the best part: She helped Mariah Carey (who sang backup vocals for her at the time) get a demo in front of Tommy Mottola at Columbia Records. And we all know how that went. Of course, that's when everything changed — for the worse, in Starr's case.
It was like a movie. As Mariah's fame grew, Starr's celeb status fell. She was dropped from Sony/Columbia because of low sales, but continued to work in music. In the early aughts she was nominated for a few Latin Grammy awards for her salsa albums. The crazy part is that most people know her power ballad, "I Still Believe," because Mariah Carey covered it in 1998. It's sort of scandalous, right?
When Gianna told the judges on Wednesday that Starr was her mom, singer Jennifer Lopez immediately made the connection — and after her audition, the judges let Starr come back in... and it was the most heartwarming thing ever. Turns out J.Lo and Starr used to go to the same dance studio, so the two spent the next few minutes reminiscing about teaching one another to sing and dance.
At one point during the exchange Brenda even told J.Lo, "I'm so proud of you." Of course, J.Lo shushed her, reminding her that her career had been just as important and inspiring. Obviously, before the moment was over the two women had made sure to let one another know how good they each looked too (as one does, because they looked fabulous).
When all was said and done, Brenda had a chance to explaine why daughter Gianna should get a golden ticket, making even the glamorous J.Lo tear up a bit.
By the end of the night, Twitter was feeling all of the feels, too (most notably after seeing '90s pop queen Starr again):
She may have gotten her voice (and maybe even her Idol vote) from her mama, but Gianna seems to have start potential of her own too. I'm Team Gianna/Starr all the way. Now excuse me while I delve into '90s power ballads.
Image: YouTube screengrab