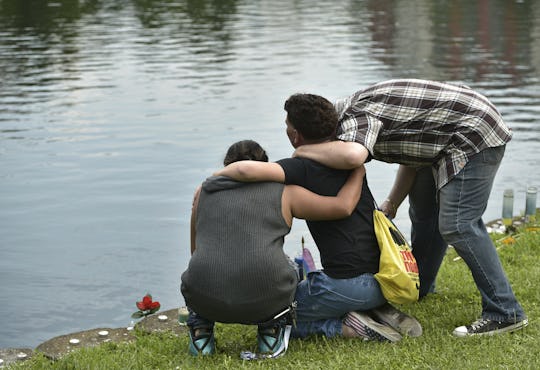 MANDEL NGAN/AFP/Getty Images
Who Is Gilberto Ramon Silva Menendez? The Orlando Victim Was A Beloved Friend
The victims of the Sunday morning massacre at Pulse Nightclub in Orlando, Florida come from all different backgrounds and places. Gilberto Ramon Silva Menendez, who was killed in the attack, is no different. Silva was 25 years old and on Facebook, his friends and family are remembering him by leaving messages of hope and memories from years past. Menendez was Puerto Rican and had been living and working in Orlando at a Speedway market and studying healthcare at the Ana G. Mendez University's Orlando campus for the past few years.
His cousin wrote on Facebook that he would be missed all around for his positive vibes. "Near or far, we are blood and loss like this is difficult to swallow. Love and prayers to you all," she wrote.
Another cousin, Irma Silva-Lauer, told The Orlando Sentinel, "He is my older brother's only child, and he was the light and the life of all the family gatherings. This all feels like a dream, and I'm going to wake up and he will be texting me or calling me to tell me he is ok."
In light of the attacks, politicians like President Obama have made statements about what an attack on an LGBTQ nightclub means to Americans. "The fact that it took place at a club frequented by the LGBT community, I think, is also relevant," he said.
Obama continued by saying that, "We're still looking at all the motivations of the killer, but it's a reminder that regardless of race, religion, faith, or sexual orientation, we're all Americans, and we need to be looking after each other and protecting each other at all times in the face of this kind of terrible act."
Because as much as we want to talk about the motives of the killer, one thing seems to be very, very clear. The gunman targeted a nightclub that catered to the LGBTQ community in Orlando, and murdered everyday people, just looking to take a break from their work weeks. Menendez, along with the other victims, is every one of us.
It's not merely "relevant" that the shooter targeted an LGBTQ club. It's pretty much everything. Menendez was a man with a lot of friends and family who will miss him. That his career in health management was also cut short is something else everyone who wants to remember him by should grapple with. There was a lot of life to come from all of the victims of the Pulse mass shooting. Gilberto Ramon Silva Menendez's death was another senseless loss everyone should think about.