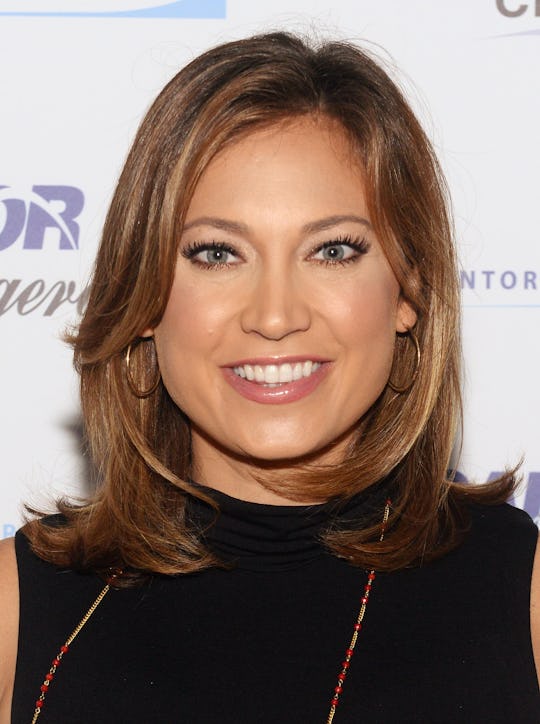 Noam Galai/Getty Images Entertainment/Getty Images
Who Is Ginger Zee Married To? Ben Aaron Is A Media Figure Himself
To be honest, whenever any season of The Bachelor comes to a close it's a sad day for Monday night television. But the upside is that once the final rose is passed out, it's Dancing With The Stars time and that can be even more fun to watch, especially with the lineup of this season's contestants and pro-partners. Tonight, DWTS fans will be able to catch meteorologist Ginger Zee as she performs a jive to "Move", from the musical Dreamgirls, with Valentin Chmerkovskiy — and there's bound to be plenty of onstage-chemistry. But who is Ginger Zee married to in real life?
Turns out, Zee's husband Ben Aaron will be watching her work her dance moves on Monday night. The two both work in media in New York City, and like any good love story, they work for competing networks. Zee is Good Morning America's meteorologist and Aaron is a news correspondent for NBC. (I guess opposites really do attract, right?)
The couple were first married in a private, beach ceremony in June 2014 and just this past December welcomed their first child, son Adrian, in time for the holidays. If there's any way to work out a post-baby bod, it's probably with a stint on Dancing With The Stars. Just after his birth, the Zee and Aaron announced the little tot's arrival with a post on Instagram. "He's here!" they excitedly shared on the social network for all of their fans. "We are all doing great and inundated with love," they added, speaking for happy families everywhere.
While Zee greets America every morning on ABC to report on the weather, Ben is a local correspondent for New York City's local NBC affiliate station and according to The New York Daily News, he's been working very hard of late to boost his ratings. Recently, for instance, Aaron did a bit in his birthday suit, wearing just Zee's underpants to promote his show, New York Live. According to the Daily News, a source said he paraded up and down Fifth Avenue for a promo for the show, but the ratings were still lackluster that night. He also has a taped show called Life According to Ben on the local network.
Meanwhile, Zee's career seems to be taking off and the added celebrity of being on Dancing With The Stars will probably ensure that everyone knows her name by the end of the season. Maybe it's a good thing that Aaron isn't equally as occupied now that they have a newborn and she has rehearsals all over the place.
For her part, Zee is taking her stint on the dance competition show very seriously. Leading up to the premiere of the show on Monday afternoon, a GMA communications exec tweeted out a picture of her and her partner Val reviewing rehearsal videos, and Zee herself has been urging fans to tune in, tweeting a photo of the DWTS couple last week with the caption "Less than a week until we hit the dance floor! Hope you all will vote for #TeamGinandJuice!"
Val Chmerkovskiy won the Mirror Ball Trophy two seasons ago, so it looks like Team #GinandJuice, their official tag, are looking for another victory. But given Zee's adorably comfy family life with husband Ben Aaron, she'll be going home a winner no matter what.