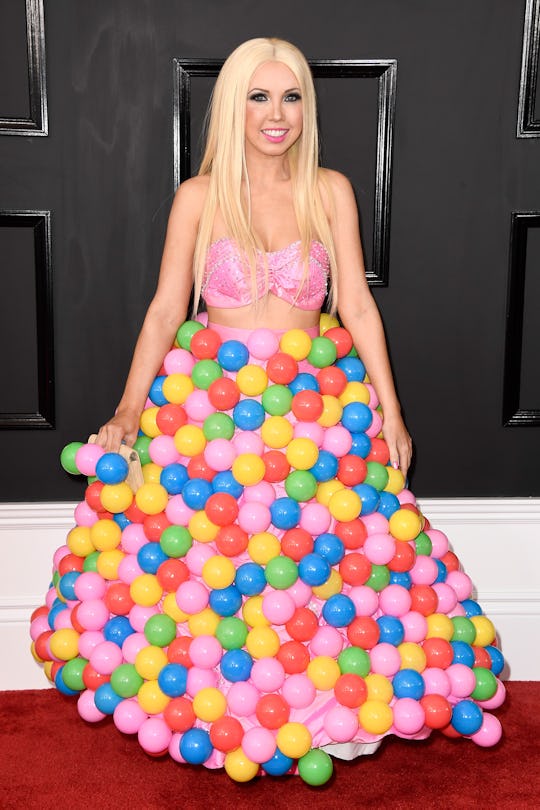 Frazer Harrison/Getty Images Entertainment/Getty Images
Everyone Has A Girl Crush At The 2017 Grammys
If you're looking for a break from the current political climate, look no further than the 59th annual Grammy Awards. If you're looking for something new to Google besides, "How many executive orders can a president possibly sign?" look no further than the Grammys red carpet. Music-lovers are definitely asking themselves, "Who is Girl Crush?" especially after she arrived in what can only be described as a bubblelicious gown.
No, Girl Crush is not a hit single by a country music group, Little Big Town, Turns out, Girl Crush is a 2016 considered Grammy artist and this up-and-comer is worth knowing. The self-proclaimed "LA's pint sized pop pixie" is creating music called "goofy hot," or what she describes as a combination of sexy and fun in one "brilliantly bright addictive package." Her debut single, "Bow On It," was released in 2013 and instantly went viral because, well, it was the year 2013. Her follow-up single, "Call Me Trouble," was released the following year, in 2014. According to Girl Crush's personal website, she has penned original music for Showtime, Comedy Central, ABC, Discovery Channel, and MTV. Yeah, that's not too shabby, dear reader. She was also a back-up dancer in a Korn music video, for all of you angsty '90s fans who can't help but feel particularly emo these days (for obvious reasons, if I do say so myself).
While her music isn't as well known as, say, Beyoncé or Adele or Katy Perry or any of the other high-powered artists slated to perform at the 2017 Grammys, there's no mistaking the splash Girl Crush made on the red carpet. Her choice for the evening of music-celebrating was, well, unique. Wearing a pink strapless crop top and a skirt with multi-colored balls attached to it (in what way, I'm not sure but, hey, I'm not a fashion designer, so) she made a "splash" while walking the carpet at music's biggest night.
However, if you're more into finding out about the artist herself and not all that into her fashion choices, here are a few of her singles so you can better familiarize yourself with who is sure to be making headlines in the near future.
"Call Me Trouble" ft Lex Lu
"Bow On It"
"Luxury"
"Uh Uh Gurl"
If you're into fun, poppy, definitely-ready-to-party music, I have a feeling you'll be crushing on Girl Crush for as long as she keeps dropping singles.