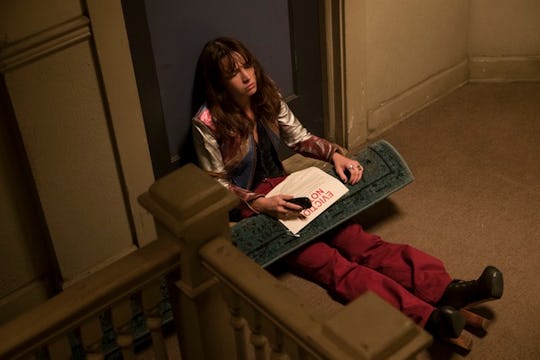 Karen Ballard/Netflix
'Girlboss' Is Loosely Based On A Real-Life Person
If you were looking for a show to inspire you, Netflix has you covered. Girlboss, a new series about a woman who starts an eBay account that grows into a successful business, just dropped. The show is the creation of Pitch Perfect writer Key Cannon, Charlize Theron, and former Nasty Gal CEO Sophia Amoruso. As it turns out, the show is based on Amoruso and her own journey from eBay store owner to business mogul. But while she's been in the news as of late, she may not be a household name. So who is Girlboss based on? Sophia Amoruso coined the term with her memoir.
Amoruso started her online retail business, Nasty Gal, on eBay in 2006 when she was only 22 years old. She hawked vintage women's clothing she found from thrift stores and made so much she earned a living off of it. After being suspended from eBay in 2008 — and feeling like she outgrew the platform anyway — she started her own site. Not only did she have continued success, but the company ballooned into a powerhouse worth $350 million by the time she was 30. Unfortunately, last year Nasty Gal went bankrupt and was eventually sold to U.K. retailer Boohoo. On top of that, she went through a pretty public divorce last year.
Did that stop Amoruso? No. In fact, she's currently trying to avoid her "sophomore slump" as she said in a piece for LinkedIn, where she's an official influencer. Since publishing her memoir in 2014, Amoruso has turned "Girlboss" into not only her brand, but a label for any woman trying to take charge of her life. She's written another book, Nasty Galaxy, and started a new business. The name? You guessed it: Girlboss. Amoruso wants it to be a community and media company for women.
While Netflix's Girlboss is heavily based on Amoruso's experiences — the protagonist is even named Sophia — it is not a biopic. It's also not a documentary. Rather, it's a fictional comedy series that highlights a lot of Amoruso's story. Amoruso said of it on LinkedIn, "It's both a gift and a surreal exercise to know that I'll be watching the last decade of my life play out on TV for the next year or years." She even hinted that the show may continue: "fingers crossed for Season 2." Viewers can be assured that they can watch the fictional Sophia's rise to girlboss-dom, but there won't be any illusions that her life was perfect.