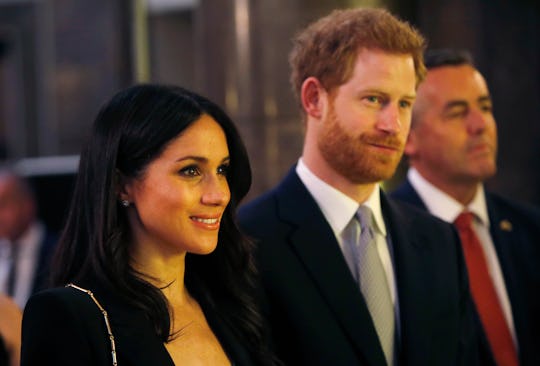 WPA Pool/Getty Images Entertainment/Getty Images
Prince Harry & Meghan Markle Have Chosen An American To Address Their Wedding
The countdown to Meghan Markle and Prince Harry's wedding is on. In less than a week, millions of people will tune in to watch Markle and Prince Harry recite their vows and celebrate what is sure to be the biggest wedding of the year. Based on everything people know about the couple thus far, it is clear that Markle and Prince Harry are not your average royal couple and tend to do things their way. Because of this, it really shouldn't be a surprise to anyone that the person giving the address at the royal wedding is an untraditional choice for the job.
The more details that emerge from the royal wedding, the excitement continues to grow (and rightfully so). With each and every bit of information that people find out about it, the more real it actually seems. Even the small details about the wedding are a reason to become excited about — and the most recent detail about the wedding, released by Kensington Palace on Saturday, is just as thrilling.
For their wedding ceremony, according to CNN, Prince Harry and Markle have asked that American Reverend Michael Curry, the head of the Episcopal Church in the United States, give the address at their wedding and be a part of very big day. Anyone would be excited to be a part of this major event and Curry is no different. "The love that has brought and will bind Prince Harry and Ms. Markle together has its source and origin in God, and is the key to life and happiness," Curry said in an official release from Kensington Palace. "And so we celebrate and pray for them today."
Curry will join the Dean of Windsor, Rt. Revd. David Conner, who will conduct the service, as well as the Most Revd. and Rt. Hon. Justin Wellby, Archbishop of Canterbury, who will "officiate" the wedding, according to a release from Kensington Palace. Bottom line — there will be more people speaking at the Royal Wedding ceremony than at your high school commencement.
This decision to have Curry give the address at the wedding marks a break from traditional "royal custom," according to CNN. Typically, the addresses at royal weddings are "given by senior clergy from the Church of England," according to CNN — but things are being done a little differently because of Markle being an American and a pretty untraditional bride in terms of the royal family. Curry was picked to speak at the royal wedding by Markle and Prince Harry to reflect the "transatlantic relationship" of the couple, according to the Telegraph, and is known as a "pioneer" for his progressive thoughts and ideas.
Because of this, people on Twitter were pretty excited about the news of Markle and Prince Harry picking Curry to address their wedding.
This isn't the first time that Prince Harry and Markle have broken royal protocol when it comes to their wedding and make the decision to do things a little differently. For starters, royal weddings are traditionally held on weekdays, according to Harper's Bazaar, while their wedding will be held on a Saturday. Members of the Royal Family (like Prince Harry's brother, Prince William) tend to get married at Westminster Abbey, but Markle and Prince Harry will get married at Windsor Castle, according to Harper's Bazaar. On top of all of this, Markle will have a traditional bridal party, according to The Cut, which isn't too common place at royal weddings, according to Harper's Bazaar. Finally, you can't mention the royal wedding being untraditional with the fact that Markle is a relatively untraditional bride for the royal family, according to CBS News. Markle is an American actress who has already been married once before and was famous before she started dating Prince Harry, according to CBS News, which makes her unlike any other royal bride that anyone else has seen before.
But this royal wedding, just a few days away, is going to be unlike any other royal wedding — and the decisions made leading up to it have made that very clear.