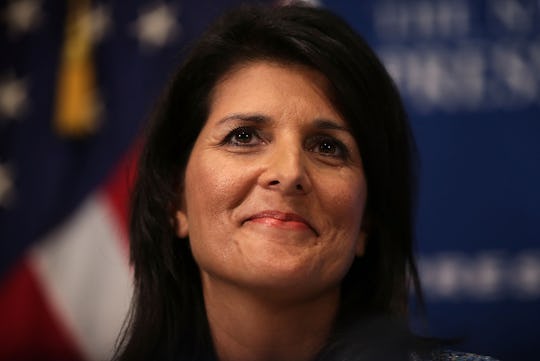 Who Is Giving The Republican Response To President Obama's State Of The Union? Nikki Haley Is A Fresh Face For The GOP
On Tuesday, Jan. 12, President Obama will deliver his final State of the Union address, marking the beginning of his farewell to the White House. On the heels of a week during which the president fought hard on his position for gun control reform, his State of the Union speech will likely address the epidemic of gun violence in America. And Gov. Nikki Haley will deliver the Republican rebuttal, proving Obama isn't the only person promising an unorthodox final State of The Union — the GOP is not opting for a household name. And some are championing that decision — Jezebel, for example, wrote that Haley is an interesting and welcome choice as the face for the Republican party, particularly considering it is currently being dominated by Donald Trump.
As the governor of South Carolina, Haley, 43, the daughter of Indian immigrants, earned attention when she called for the removal of the Confederate flag from in front of the State House in Columbia, S.C. The governor made the decision to remove the flag, which she told The New York Times was a "deeply offensive symbol of a brutally offensive past," a week after the racially motivated shootings occurred at Emanuel A.M.E. Church, in her state, where nine people were shot and killed during a Bible study group.
While Haley made history by removing the Confederate flag (she also made history by being the nation's youngest governor, and a woman, and minority at that), she doesn't necessarily tout liberal views. The governor opposes legislation that would expand background checks in firearm purchases — and any gun control reform at large — and has also spoken out against opening American borders to Syrian refugees. And, like pretty much everyone in her party, she's anti-Obamacare.
So what will Haley have to say in her rebuttal speech? I have a feeling you'll be hearing a lot about the Second Amendment. But before we get to that, let's hear her words on the removal of the Confederate flag in South Carolina. Because this is a powerfully good speech.
I have another sneaky feeling. Is Haley going to emerge as a choice GOP vice-presidential pick? Oh, the veepstakes have only just begun, and I, for one, am curious to hear more from Haley, starting with her Republican rebuttal speech.
Images: Alex Wong/Getty; YouFirstNews/YouTube