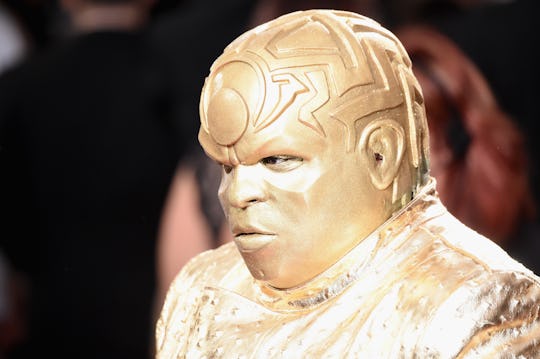 Frazer Harrison/Getty Images Entertainment/Getty Images
CeeLo Green Is Introducing A New Artist This Year
Usually, when one thinks of the Grammy Awards one envisions an evening in which artists you know (and perhaps a few you don't, but have vaguely heard of) are celebrated for their contributions to music and art. Not this year, my friends. During the 59 annual Grammy Awards, music-lovers are asking themselves, "Who is Gnarly Davidson?" It turns out, CeeLo Green's Grammy's look is a dramatic introduction to his alter-ego and a new artist we should all, collectively and with perhaps a little trepidation, prepare ourselves for.
If you didn't know any better, you wouldn't have been able to recognize the 42-year-old singer and former The Voice coach on the Grammys red carpet. While CeeLo is well-known for being out-of-this-world original and far-out in his music as well as his overall brand, this look was entirely unpredictable. Of course, there was a good reason behind it all. CeeLo wasn't going as CeeLo, but as Gnarly Davidson; a new persona that will debut (perhaps, and hopefully) new music from the three-time Grammy Awards winner. Of course, his persona's last name also gives a reason behind his somewhat strange Grammys entrance: he arrived to the show on a motorcycle with a giant entourage of bikers. Gnarly Davidson. Davidson? Motorcycles? Get it? (Yeah, we get it, CeeLo.)
There are already a few Gnarly Davidson Twitter profiles, although click at your own risk as none of them are currently verified. However, if you do want to get a better glimpse at this somewhat-mysterious-but-very-outgoing new artists (that's really an already-established artist but, well, you get the idea) you can do a little digging and take a gander at a few intense photos, like the following:
In December, CeeLo released footage showing what looked to be his phone exploding in his hand while he was in the studio, then him lying motionless on the floor. As disturbing as the footage was, it was actually a plan for CeeLo to roll out this new Gnarly character and, in a way, the ability for him to get rid of the old Green and make way for the new Davidson.
While there's no word on when fans of CeeLo (or Gnarly) can expect a new album, one thing is for certain: between the odd introduction video to the 2017 Grammys red carpet debut, music fans the world over are going to be on the edge of their proverbial seats, waiting to see what kind of music (and perhaps, more) Gnarly Davidson gives the world.