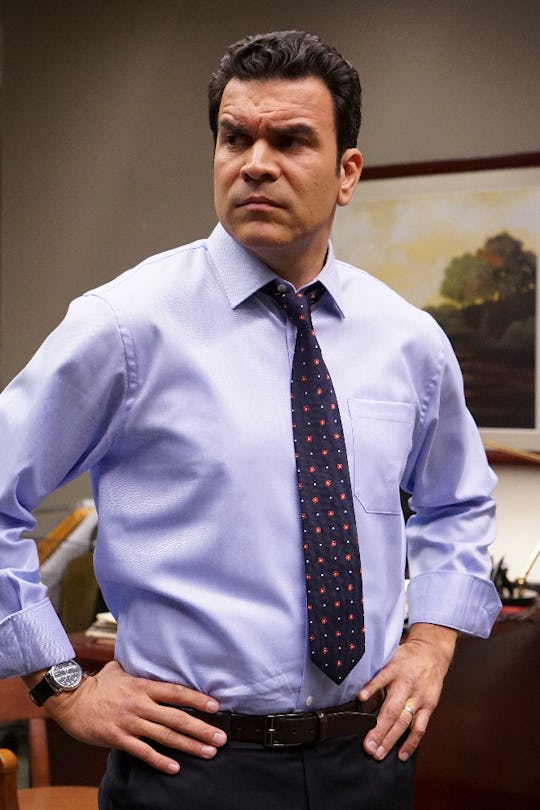 ABC/Eric McCandless
Who Is Gov. Vargas? 'Scandal's Big Hero Will Likely Play An Important Role In The Coming Days
Thursday night's Scandal did not just include what's going on in the lives of President Grant, Olivia Pope, and the other main characters. Episode twelve of the season, "Wild Card," certainly lived up to its name. Partway through the episode, a jarring shooting and hostage situation occurred at the hands of Tom Larsen–and, tangentially, Cyrus. Larsen threatened another man, Wayne Turner, into committing the act. Of course, the hero of the evening was Gov. Vargas, who handled the entire scenario with perfect skill.
We know previously and from the beginning of the episode that Cyrus has had his eye on Gov. Francisco Vargas for a potential presidential candidate, against Millie, Susan, and inevitably others. He aligns with Larsen to get Vargas his "hero" moment–which is done by sacrificing other lives, and without Vargas' knowledge. After some time Cyrus calls off the plan, but Turner has gone rogue.
Partway through, Turner abandons the mission and makes Vargas a hostage. He then shoots him — after killing two others — but Vargas survives. As if that isn't enough, Vargas then performs what the news coins as "the tackle", taking out Turner by tackling him to the ground, saving himself and others in the process.
By the end of the episode, it was easy to see that Vargas had become a political darling on national television.
Meanwhile, President Fitz is fixated not on what's going on in Washington but in his personal life, particularly his new love interest: reporter Lillian Forrester. Others in Fitz' circle appeared to be focused on that as well. During the opening of the episode, Abby finds Fitz and Lillian in the back of a limo and promptly chastises Fitz. And while Fitz initially claims that it's none of Abby's business, by the end of the episode he begrudgingly accepts that her word of advice is probably solid, even telling her to start calling him "Fitz" again, since she must be his best friend if he's telling her details about his sex life.
Olivia is also preoccupied with her personal business, as the rest of the episode's explosive details unfold. She is in a relationship with Jake, now head of the NSA, and not sure where his intentions lie. After an argument with Huck about it, she affirms that she is not "sleeping with the enemy" despite what others say of her.
Despite all the side drama, however, it seems that the most important detail to emerge from this week's episode is that Vargas will soon be on everyone's radar. But whether he becomes a shoo-in for the presidency in the Scandal universe (and whether Cyrus gets his way)? Only time will tell.