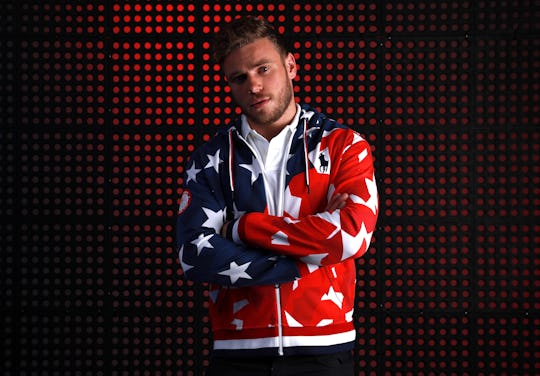 Tom Pennington/Getty Images Sport/Getty Images
So... Who Is Olympic Skier Gus Kenworthy Dating Now?
With the Winter Olympics officially here and some incredibly talented skiers hitting the slopes in PyeongChang, South Korea over the next couple weeks, you may be curious about who you're watching and who Gus Kenworthy is dating, for example. Kenworthy is an American freestyle skier who won the silver medal for Men's Freestyle Skiing at the 2014 Winter Olympics in Sochi, Russia. He's quite accomplished ... and also pretty easy on the eyes.
In October 2015, Kenworthy came out as gay in an interview with ESPN, though he said that he came out to his family and friends just two years prior. Gay Times UK reported that Kenworthy is currently dating actor Matthew Wilkas and Kenworthy told the publication that he hopes to inspire others by being open about his love life.
Prior to dating Wilkas, Kenworthy was in a five-year relationship with photographer Robin Macdonald, as reported by Heavy.com. According to the Daily Mail, Kenworthy has been dating his boyfriend Wilkas since November 2015. At the time, Kenworthy told People that he was dating someone but that it was "new" and apparently wasn't ready to reveal Wilkas' identity just yet.
Weeks before it was revealed that Kenworthy was dating Wilkas, Macdonald posted a photo of himself with Kenworthy on Instagram, writing this as a caption:
After being with @guskenworthy for many years, I have learned he is a self obsessed monster and actually the biggest pile of sh*t on the planet. He is also my favorite and I will always have so much love for him even though we don't see much of each other anymore. Love you Gussy ... Also, you were not fooling anyone. Any man who knows the entire soundtrack to the Broadway musical "wicked" is not bringing in the ladies, unless it's for a themed dinner party.
In an interview with OUT Magazine, Kenworthy said that he met Wilkas on Instagram and admitted to messaging him while he was "on a break" from Macdonald. Perhaps that's why Macdonald wrote such a feisty caption on his Instagram pic.
Kenworthy told OUT Magazine, "I'd written him a message on Instagram while Robin and I were on a break — I'd seen Matt in the movie Gayby, and he'd popped up on my Instagram with these videos he makes, and I watched a few of them — he used to do these ones with a silly chick who wiggles when the sun hits her, and I thought they were really funny." He continued:
I followed him, he followed me back, and I wrote him this really long message on Instagram. I said, "Hey, I think you're really funny, and you seem really sweet, and I've been enjoying following you on Instagram, and actually I'm in the closet right now, and I'm coming to New York in a couple of weeks if you want to get a coffee or something."
And the rest is history. Kenworthy admitted that his mother was very accepting of the relationship, while Wilkas' mother is very religious and wasn't as open to meeting Kenworthy, as Wilkas revealed to OUT Magazine. When Kenworthy and Wilkas first got together, Kenworthy still reportedly hadn't come out, according to Heavy.com. With Kenworthy not being immediately open about his love life, fans wondered if he was single or dating. Kenworthy is beyond adorable and fans continue to ask questions online, trying to find out if he's still on the market.
Fans Have Been Wanting To Know About His Dating Life For Years
With Kenworthy heading into the Winter Olympics, fans will surely be watching him compete. Recently, Wilkas wrote on his Instagram account about how excited he is for Kenworthy to be representing the United States and the LGBTQ community at the Olympics. Maybe Wilkas will be with him in PyeongChang, cheering him on behind the scenes.
Check out Romper's new video series, Romper's Doula Diaries:
Watch full episodes of Romper's Doula Diaries on Facebook Watch.