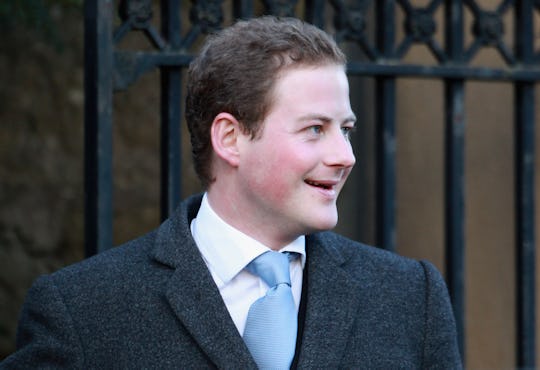 Chris Jackson/Getty Images Entertainment/Getty Images
All About Guy Pelly, Prince Louis' Nightclub-Owning Godfather
Prince Louis' christening has finally happened, and his godparents' god-parenting duties have officially kicked in. On Monday, July 9, Prince William, Duke of Cambridge, and Catherine, Duchess of Cambridge, appointed three godmothers and three godfathers to their 11-month-old baby boy. Many are wondering in particular about one of the godfathers, Guy Pelly. Who is Guy Pelly? If Prince Louis follows in his Uncle Harry's footsteps and has a partying phase when he gets older, Pelly will definitely have plenty to teach his godson.
Pelly, 34, is a close friend of both Prince William and Prince Harry, with their friendships going back to their days as schoolboys, the Mirror reported. Pelly's mother Lady Carolyn Herbert, was a close friend of William and Harry's mother, Diana, Princess of Wales, before she passed away in 1997, the Sun reported. The boys remained close as they got older, and some even consider Pelly to have had a "wild influence" on the princes, the Mirror reported. Pelly's name is associated with several of the "scandals" from William and Harry's past, the Daily Mail noted. For example, in 2005, Prince Harry drew endless criticism for wearing a Nazi uniform to a costume party. He attended the party along with Pelly (who was dressed as the queen), making Pelly's name synonymous with Harry's indiscretion.
It's also rumored that Pelly introduced Prince Harry to marijuana when they were teenagers, the Daily Mail reported. Additionally, Pelly has had his driver license taken away three times after being found guilty of driving while intoxicated, the Telegraph reported.
Other than those few minor scandals, Pelly is also known for his role in London's nightclub circuit, having owned and run London nightclubs Mahiki, Public, Whisky Mist, and Tonteria, according to the Mirror.
In 2014, he settled down and married Lizzy Wilson, the heiress to the Holiday Inn hotels. Harry and William — as well as Princesses Eugenie and Beatrice — attended the couple's Memphis nuptials, The Daily Beast reported. (Kate reportedly stayed home with 1-year-old Prince George.)
It would seem that Pelly's party animal days came to an end by the time he tied the knot (much like William and Harry's had). In 2013, Pelly told the Daily Mail: "I have calmed down quite a bit socially now." The reason for the interview? Prince George's christening was around the corner, and rumors had been spreading that Pelly was going to be his godfather, which was untrue. He also told the Daily Mail:
People have been coming up to me and shaking my hand offering their congratulations all week. It's been weird. I've had to explain to everyone that I am not going to be a godfather. They have got it all wrong.
That being said, he remained hopeful that he would become a godfather someday. He added:
I love babies ... I think I will be a very, very good godfather — one day, at least. But it is their choice.
Interestingly, Pelly wound up becoming a father to a child of his own before a godfather to a royal baby. In April 2017, the couple welcomed their first child, Willow Elizabeth, the Daily Mail reported at the time. It looks like Pelly finally had a big enough credit on his resume to snag a spot as a royal godfather, and it's definitely exciting that William and Pelly's children are so close in age.
At Prince Louis' christening, Pelly was scheduled to read from Ephesians 3: 14-19, according to the royal website. The other five godparents, who were all present at the christening, are: Mr. Nicholas van Cutsem, Mr. Harry Aubrey-Fletcher, The Lady Laura Meade, Mrs. Robert Carter, and Miss Lucy Middleton.