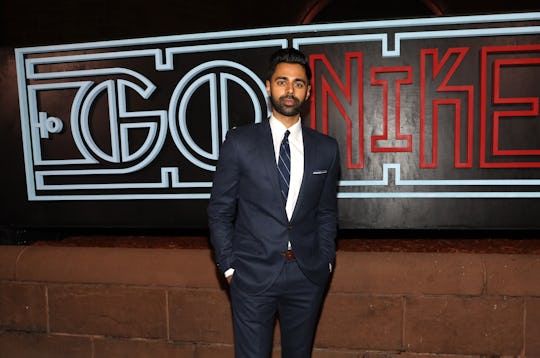 Josh Brasted/Getty Images Entertainment/Getty Images
Hasan Minhaj Is The Perfect WHCD Host
The White House Correspondents' Dinner is meant to be a lighthearted event, dedicated to satirizing the current political climate. Though President Donald Trump has vowed not to attend this year's engagement, the show will still go on, with the help of a host whose name you may or may not recognize. So who is Hasan Minhaj, and what can you expect of his comedy when it all goes down next Saturday? The 31-year-old boasts credits from The Daily Show and has even written his own Off-Broadway show, called Homecoming King, which is set to debut on Netflix in spring of 2017.
Minhaj was chosen to host the dinner pretty late in the game, as hosts are typically announced in February. A number of comedians were approached, but reportedly declined (James Corden among them). Reuters White House correspondent and WHCA president Jeff Mason, though, has full faith in Minjaj's capabilities, explaining: "Hasan's smarts, big heart and passion for press freedom make him the perfect fit for our event, which will be focused on the First Amendment and the importance of a robust and independent media."
Though Mason has assured that Minhaj wasn't hired to "roast the president in absentia," some commentary on the president seems inevitable. In multiple segments as a correspondent for The Daily Show, Minhaj hasn't held back, frequently criticizing Trump's proposed Muslim ban through ironic, investigative journalism that highlights his personal experience as a Muslim-American. In 2015, he warned of the then-candidate's extreme methods of procuring followers, calling Trump "white ISIS," in the end.
Though he's still early in his career, Minhaj couldn't be more prepared to host, as he has (nearly) done this before. Last summer, he spoke at the Radio and Television Correspondents' Dinner. At the dinner, he commented on the then-presidential candidates, calling Hillary Clinton "the Toyota Camry of presidential options" and Trump "a racist Cheeto." In addition to politics, his 22-minute set commented on the media's complicity in discrimination, but ultimately he concluded with a comment on the then-recent Pulse Nightclub shooting in Orlando. Minhaj ended seriously, insisting that "civil liberties are an all or nothing game ... we all have to step up and fight for each other." Few of those sentiments, however, were met by laughter; By and large, the audience remained silence in response to his hard-hitting words.
This year's dinner will definitely be an unusual one. That the president refuses to attend, opting to hold a rally instead sets an eerie, strained stage for Minhaj. Hopefully, Minhaj will have a more receptive audience than he did at his hosting engagement last summer. It might be the case, though, that if people aren't laughing, it could be due to the truth ringing out in Minjaj's statements — however upsetting those truths may be.