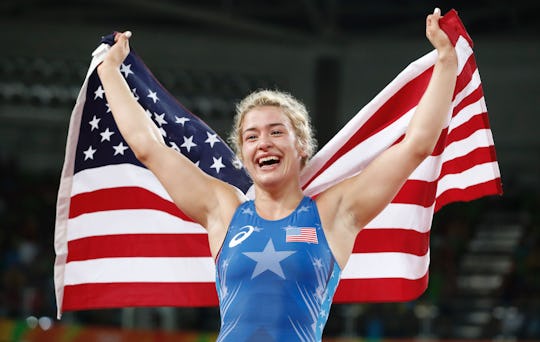 JACK GUEZ/AFP/Getty Images
Who Is Helen Maroulis? The U.S. Wrestler Just Made History
The United States is absolutely dominating the 2016 Olympic Games in Rio de Janeiro. Its athletes have collectively earned 95 medals so far, 32 of them gold, more than any other country (and a full 40 more medals than the current runner-up, Great Britain). But in the relatively new sport of women's wrestling, the biggest, baddest country (just in my opinion) hadn't won any Olympic golds, ever — until now. On Thursday, badass wrestler Helen Maroulis, who upset the sport's reigning champion, became the first U.S. woman to bag gold since wrestling opened up to female Olympians in 2004.
The 24-year-old beat Japan's Saori Yoshida, a 16-time world champion who had already won three Olympic golds over the course of three consecutive Olympics. It was a match that Maroulis was in no way guaranteed to win, and the aftermath was glorious: According to USA Today, Maroulis cried on her knees before climbing into the stands to celebrate with family and friends. Then, she took the famed victory jaunt around the mat draped in an American flag. She had accomplished a feat that she said she had dreamed of her whole life. And because she had to drop down to a lower weight class to compete in the Olympics, it was one she had worked especially hard for.
The 121-pound weight class in which the Huntington Beach, California, resident won her world title last year does not exist in the Olympics, according to NBC's Olympics sub-site, meaning that Maroulis had to lose 4.5 pounds in preparation — and, as a result, take on Yoshida as her competition. "I've been preparing for her for years," she told NBC before the Games.
"Here's the deal," Maroulis said at the time. "I want to win a gold medal in Rio. So I know that I will probably have to wrestle Saori Yoshida, but I also know that I'm probably going to have to wrestle four or five matches leading up to that. So she is not my biggest competitor – everyone's my biggest competitor. I don't underestimate anyone, I respect every opponent."
Maroulis has so much respect for her teammates, in fact, that in 2012, she agreed to travel to the 2012 Games in London as a training partner to the wrestler who beat her in the qualifying match to make the Olympic team, The Washington Post reported. It was a visceral, painful disappointment, but she did it anyhow. It was a testament to the strength of her character and her fortitude, resilience, and determination to make it to Rio.
The Olympic Thursday upset marked the first match that Yoshida has lost after a solid four-year winning streak. In addition to that impressive record, Yoshida's trip to Rio is her fourth Olympic adventure; By contrast, Maroulis is a newcomer to the U.S. Olympic team. The competition, for sure, is more formidable and also more receptive to her than it was when she was in high school and had no choice but to compete against the boys. At that time, she told NBC, many of the boys would forfeit rather than wrestle her.
"But I just wish someone would've challenged them to just think about the bigger picture and really what the sport provides for you, and that's mental toughness, fortitude, overcoming obstacles," she said of that time. "And sometimes we don't always get to choose what that obstacle is."
Ostensibly, a major reason these boys refused to follow through with their matchups against Maroulis was because they simply didn't want to lose to a girl. They may not have known, though, that that girl would soon make Olympic history. Losing to her would have been a privilege.