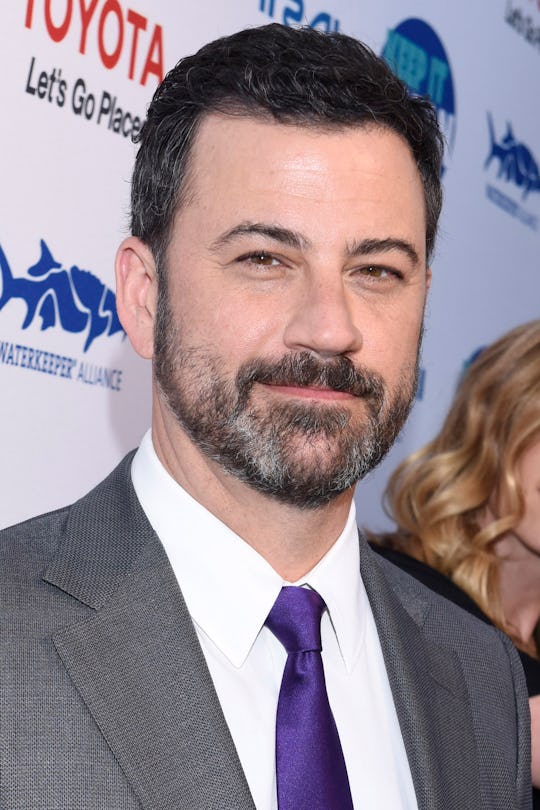 Vivien Killilea/Getty Images Entertainment/Getty Images
Who Is Hosting The 2016 Emmys? Jimmy Kimmel Will Take Center Stage
Award season is upon us and the Emmys are right around the corner. It's the night where the best of the best in TV come together on TV to celebrate everyone's TV success. Basically, it's a whole night about television. It's no surprise then that this year's host is someone who has experience hosting their own show for thousands of viewers. So who will be hosting the Emmys this year? Late night talk show host, Jimmy Kimmel will be leading the Emmys this year and it's not his first time either. Back in 2012 he hosted the 64th Primetime Emmy Awards for the first time and killed it.
There's no doubt Kimmel will be a hilarious host this year. He always brings the funny to his show, Jimmy Kimmel Live! and we can expect the same kind of hilarity and antics that his show has become known for. He may even bring his popular sidekick, Guillermo, to the show with him. For now it's unknown what Kimmel has planned for the big night but whatever it is it's sure to be a hit. Kimmel is not new to hosting and entertaining a crowd and that'll definitely be clear when he hits the Emmy stage again.
Besides hosting, Kimmel's show is nominated again this year for Outstanding Variety Talk Series. This is the fifth time Jimmy Kimmel Live! has been nominated and it'd be amazing if this year was the year Kimmel won. If he does win this would be Kimmel's first Primetime Emmy award although he did win a Daytime Emmy Award back in 1999 for Outstanding Game Show Host on Win Ben Stein's Money. It would be great to see Kimmel finally win the Primetime Emmy during the year that he hosted but he's up against some tough competition.
Also up for Outstanding Variety Talk Series is Comedians in Cars Getting Coffee, Last Week Tonight with John Oliver, Real Time with Bill Maher, The Late Late Show with James Corden, and The Tonight Show Starring Jimmy Fallon. Despite the tough competition, Kimmel has had a great season in the past year and he definitely has a shot at going home with the Emmy.
Make sure to tune into ABC on Sept. 18 at 5 p.m. PST to watch the 68th Primetime Emmy Awards.