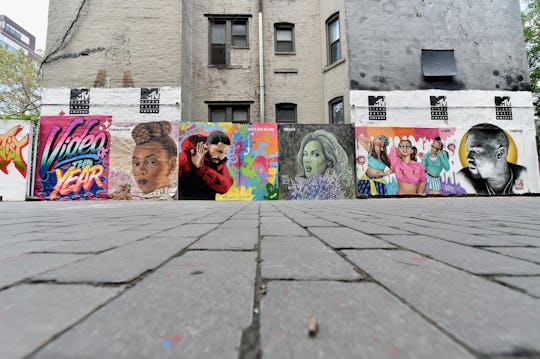 Mike Coppola/Getty Images Entertainment/Getty Images
Who Is Hosting The 2016 Video Music Awards? No One Will Be Hosting This Year
Hosts can make or break an awards show. Sure, celebrity hosts do a terrific job at introducing presenters and do a great job in stringing the narrative of the show along. But sometimes their jokes don't necessarily stick with audience members and can often times serve as a distraction from the show's main attractions. If people were wondering who is hosting the 2016 Video Music Awards, airing Sunday night on MTV, they might be surprised to learn that no one is hosting them this year.
You read that right, no one is hosting the awards show this year. A show without a host eliminates the burden of pretending to laugh at their jokes and having to sit through segments when everyone is really just waiting for Britney Spears to finally perform. But what is an awards show without a host or a big opening number?
Not to worry — there will still be some sort of hosting aspect involved, just not in the traditional sense. According to Entertainment Weekly, the comedy duo of Keegan Michael Key and Jordan Peele will serve as the VMAs "master of ceremonies" offering "play by play commentary" as two unique characters, that are different from Key and Peele themselves.
According to Entertainment Weekly, Snapchat genius DJ Khaled (bless up!) and comedians Nicole Byer and Jay Pharoah will serve as "correspondents." Think of it as recent Olympic commentary but for a music awards show or CNN commentary for MTV...?
"We thought it would be great to go out to Key and Peele, who are going to be at a desk covering the show to the camera as you would see at these other events," VMA executive producer Jesse Ignjatovic told Entertainment Weekly.
Sounds pretty cool to me. And as you can see in the teasers involving Key and Peele it looks like that some celebrities won't get off easy. This is a major departure from last year's VMAs when Miley Cyrus hosted. While the Cyrus hosted show was relatively tame (but featured a very colorful performance from Cyrus herself) the VMAs did experience a drop in ratings from the previous year. According to Billboard, the 2015 VMAs only brought in 5 million viewers and dropped 4 million viewers from the 2014 broadcast.
But according to Deadline, the 2015 VMAs did set a record by generating 21.4 million tweets during the broadcast and making it the most the most tweeted non-sports program ever, at the time. Perhaps Key and Peele's commentary and the lack of host will achieve similar success on Twitter with this year's broadcast.
This is not the first year in the show's history without a host. According to Entertainment Weekly, there were no hosts for the 2011, 2013, and 2014 shows. Key and Peele's commentary, however, will surely be a major contribution to one of the most fun awards shows of the year.