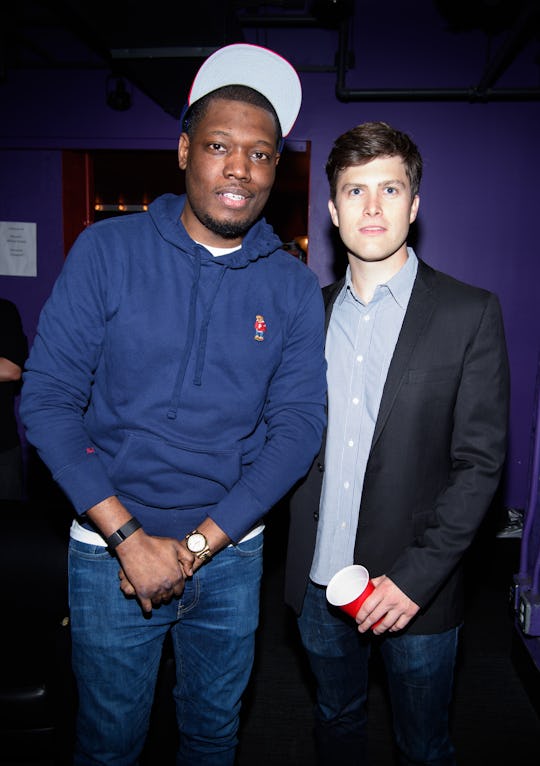 Dave Kotinsky/Getty Images Entertainment/Getty Images
Here's What You Need To Know About The Dynamic Duo Hosting The 2018 Emmys
You see them every Saturday night, and now you're going to see them like never before. With the tail end of this year's award season wraps up this month with the National Academy of Television Arts & Sciences recognizing the year's best work in TV, there's a lot of excitement, but maybe even more questions. One of the biggest question is: Who is hosting the 2018 Emmys? Michael Che and Colin Jost from Saturday Night Live say that they're going to make their comedy "less political" than prior years.
According to The Hollywood Reporter, Che and Jost were selected to host this year's awards as SNL goes through a "renaissance" of sorts, and an undeniable resurgent in popularity in the years since the election. "NBC is thrilled to be the home of this year's Emmy Awards, and with Colin and Michael in the driver's seat as hosts, along with surprise appearances by other cast members of Saturday Night Live, I think we are in for one of the funniest awards shows in a long time," the magazine reported NBC Entertainment chairman Robert Greenblatt said in a statement.
"We're proud of our deep comedy roster at NBC, and Michael and Colin, along with the return of king of comedy producer Lorne Michaels, will make this the must-see comedy event of the year," NBC Entertainment alternative and reality group president Paul Telegdy added. "We're proud to be the first duo hosting the Emmys since Jenna Elfman and David Hyde Pierce," the pair said in the same statement, "and somehow that's a real fact."
In another interview with Vanity Fair, Jost and Che opened up about what their hosting style will be, and whether or not they're going to touch on hot button political topics that have swept and polarized much of the United States since 2016, but most especially this year. Their opinion? Keep it light. "It is kind of fun for us to do something that is not political," Jost told the magazine. "The exciting part is to do things about television and that particular awards ceremony and make it, in general, less political than normal. There's a lot to celebrate in television right now. It's a very strong time."
Jost went onto say that though he and Che are very excited for their hosting debut, they don't yet have their material written. After all, anything could come up between now and the time the show airs on Sept. 17. "Anything that you do now would feel old," he said. "Not even on an individual joke level, but even knowing the whole tone of the country at that point is hard to know now." He also added that one particular hot button topic that's been popular this year, the #MeToo Movement, will likely not be joked about at length during the show. "I think that by [the Emmys], people are going to be desperate to give men a chance, finally," he said. "It'll probably be #HeToo by then."
However, one way in which Jost and Che do live up to tradition is that they are somehow related to late-night. Variety reported that Stephen Colbert hosted the 2017 Emmy Awards, and that the year prior, The Guardian reported it was Jimmy Kimmel who hosted in 2016. Though the pair certainly do have large shoes to fill, fans can bet this dynamic duo will be as funny as ever, and likely toe the line of what's appropriate... as so many comedians tend to do. Regardless, it will certainly be a super entertaining evening. The 2018 Emmy Awards will air on NBC later this month.