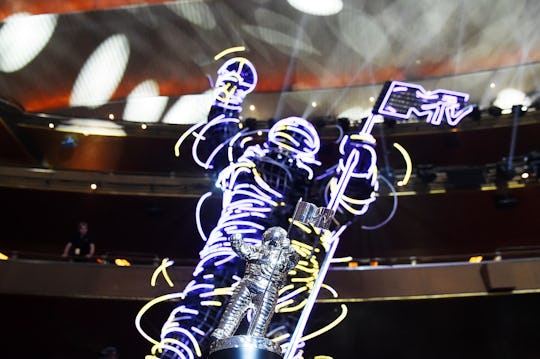 Nicholas Hunt/Getty Images Entertainment/Getty Images
Who's Hosting The 2018 MTV VMAs? The Answer Will Be On Your Screen Soon Enough
With just days to go until MTV's biggest night of the year at Radio City Music Hall in New York City, you might be wondering who's hosting 2018's Video Music Awards? It's already been announced that Shawn Mendes, Ariana Grande, Panic! At The Disco, and Cardi B are making special appearances. And Jennifer Lopez will also be on hand to accept her Video Vanguard award. But the answer to who is specifically taking on hosting duties hasn't been announced just yet. True, clues can be had from last year's presenter, Katy Perry, which seems to mean that whoever is hosting this year will have to be as massively, world famous, right?
Still, more clues would be helpful, so let's keep digging. As Entertainment Tonight reported, the network has made absolutely no announcement yet, so at this point anything goes. And MTV has a history of switching up how they do things from year to year, either moving the awards back and forth from L.A. or New York, according to awards website GoldDerby, or even going host-less, as they did in 2016 as Entertainment Weekly reported, with comics Key and Peele offering sports-type commentary that year from a desk set up elsewhere.
This year, there's still a big question mark when it comes to hosting, but some things have been revealed. For starters, Tiffany Haddish, Kevin Hart, and Millie Bobby Brown will be among the celebs handing out trophies, according to Entertainment Weekly. The magazine also reported that other presenters will include Bebe Rexha, DJ Khaled, Blake Lively and, flashback, the Backstreet Boys.
No matter who picks up hosting duties this year, it'll undoubtedly be a night to remember. Looking back at history, you'll remember that funny things — or, depending on your viewpoint, huge disasters — can happen at the VMAs, as Billboard reported. For example, in 2013, Miley Cyrus set off a firestorm of controversy when she twerked with Robin Thicke in a routine that included such props as a foam finger and bra-and-panty set. As The Telegraph reported, each star then blamed the other for coming across as too lewd.
And don't forget about the absolutely-infamous moment when Kanye West interrupted Taylor Swift in 2009, grabbing the mic mid-acceptance speech to say the real winner should have been Beyoncé, according to Billboard. (At least Beyoncé tried to make amends for West later in the evening by acknowledging Swift.)
And that's not even counting Madonna's make-out with Britney Spears in 2003 or Lady Gaga's never-to-be-forgotten meat dress at the 2010 VMAs.
Come to think of it, what doesn't happen at the VMAs?
And with a roster of superstars, including Camile Cabello, Drake and Cardi B competing for Artist of the Year, according to TVInsider, and other nominees including Lil Pump, Ed Sheeran, Post Malone, Beyoncé, and JAY-Z, it really should be an exciting night.
As Vanity Fair mentioned, with 10 nominations to her credit, the night could really end up belonging to new mom Cardi B. Also of note, according to Vanity Fair, Swift's first video in a while, "Look What You Made Me Do," was shut out of the nominations this year. (Swift probably doesn't have room for any more awards on shelf, anyway, but her lack of acknowledgement at this year's festivities did raise some eyebrows, according to Vanity Fair.)
Sounds like it should be a fun night, and not one to miss since you just never know what can happen on live television from the VMA stage.
The VMAs air from Radio City Music Hall in New York on Aug. 20 at 9 p.m. ET on MTV.