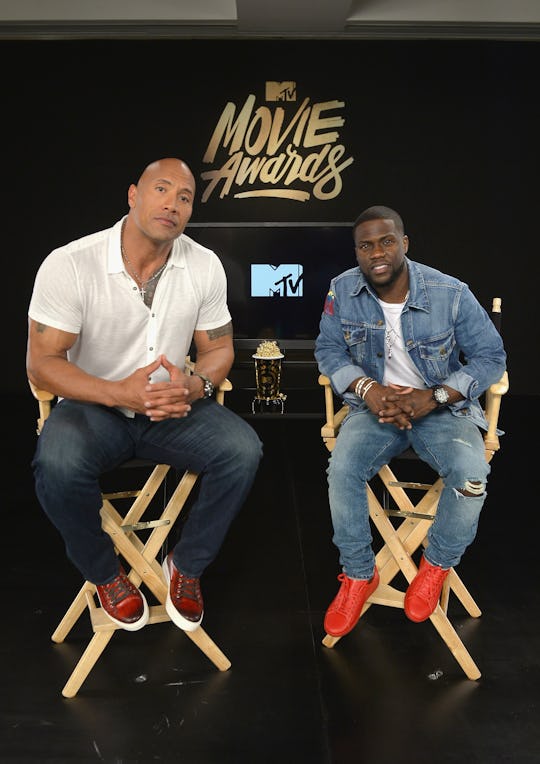 Gustavo Caballero/Getty Images Entertainment/Getty Images
Who Is Hosting The MTV Movie Awards? Quite Possibly The Most Amazing Pair Ever
This year marks the 25th anniversary of the MTV Movie Awards, set to air on Sunday, April 10 on the cable network. For such a special anniversary, who is hosting the MTV Movie Awards? Turns out it's quite the pair of co-hosts: Dwayne "The Rock" Johnson and Kevin Hart. But it's not just a hosting gig for the seemingly oddly paired couple. Johnson has two MTV Movie Award nominations — Best Hero and Best Action Performance — for his role as Raymond Gaines in last year's Memorial Day blockbuster, San Andreas. Hart also has been nominated for Best Comedic Performance for his role as police officer Ben Barber in Ride Along 2.
Speaking to Variety, the 43-year-old pro wrestler-turned-actor seemed pretty pumped to share the stage with a fellow actor and comedian: "It's an honor to be hosting the 'MTV Movie Awards' with a guy who's not only one of the funniest guys on the planet, but who's often mistaken as my twin, Kevin Hart." Johnson went on to promise fans an "epic, historic unforgettable night" co-hosting with Hart. In a first for the awards show, it will be pre-taped on Saturday, the day before it airs, across multiple locations outside on the Warner Bros. studio backlot.
The MTV Movie Awards won't be the first time that Johnson and Hart have worked together, as the two recently filmed the action comedy movie Central Intelligence, set to premiere on June 17 in theaters. Last month, Warner Bros. Pictures released a new full-length Central Intelligence trailer that has fans of both Johnson and Hart excited for what looks to be a pretty hilarious summer popcorn flick.
The Central Intelligence trailer alone is pretty hysterical in and of itself: Gregory Wakemen, writing for Cinema Blend said "The script and film itself appear to have been perfectly orchestrated to get as many laughs as possible from the scenario [of Johnson and Hart's pairing], while making sure that it's enthralling and rollicking, too." You can see for yourself below:
If their forthcoming movie together is any indication, Johnson and Hart are going to make this year's MTV Movie Awards a night not to be missed. The MTV Movie Awards will air at 8 p.m. on Sunday, April 10 on MTV.