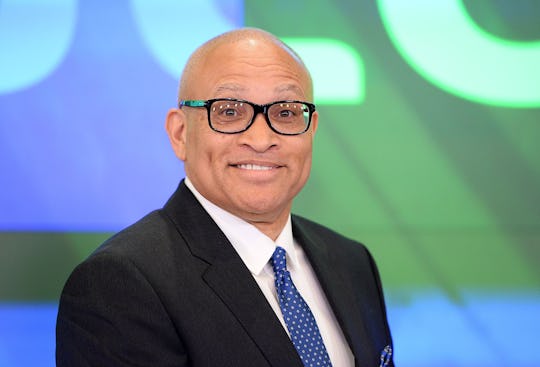 Slaven Vlasic/Getty Images Entertainment/Getty Images
Who Is Hosting The White House Correspondents' Dinner? It Should Be A Memorable Night
Saturday will mark President Barack Obama's last White House Correspondents' Dinner, a star-studded celebration of journalism where Americans get to see their Commander-in-Chief do a bit of stand-up and maybe humiliate Donald Trump again. Those curious about who is hosting the White House Correspondents' Dinner will be happy to hear that The Nightly Show's Larry Wilmore will bring his signature smart political humor to Washington this weekend. It's a curious event, where the stars of CBS's Mom will rub elbows with C-SPAN cameras, but it's all for a good cause. In addition to functioning as an awards show for journalists covering the White House, the dinner also raises funds for scholarships for journalism students, 18 of whom will be honored on Saturday night.
In a December press release to announce Wilmore's hosting, White House Correspondents' Association President Carol Lee of The Wall Street Journal said, "Larry's edgy, even provocative, brand of humor means he's certainly up to the task of skewering politicians of all ideological stripes, and we don't expect the nation's news media to escape unscathed, either." So just how hard will Wilmore be on Trump? Could he possibly top the 2011 dinner, when, fresh off the release of Obama's long-form birth certificate, host Seth Meyers and the president roasted the Celebrity Apprentice star to his face?
Speaking to Politico, Wilmore said that he did intend to speak to Meyers for pointers on properly skewering Trump. "His assault on Trump was hilarious. It was so funny. They kept cutting to Trump, and his reaction was just hilarious. I mean, Trump's face was just — it kept getting funnier and funnier and funnier." And Wilmore said he's been gunning for the job for years. "I really wanted to do this, you know, not knowing if I'd have a chance to do it or be in the position and do it, but really hoping that I would." He adds that he was particularly interested in performing for the U.S.' first black president. "I always said I'm not disappointed with Obama because I voted for him because he was black, and as long as he kept being black, I was a happy man."
And for those who can tear their eyes away from the stage, the audience promises to be almost as fascinating, with a guest list that'll make your head spin. Sure, there are the expected news anchors and correspondents like Megyn Kelly, Savannah Guthrie, and Chris Matthews. Then there are Hollywood bigwigs like Academy of Motion Picture Arts and Sciences President Cheryl Boone Isaacs, and superstars like Morgan Freeman and Will Smith. But then it gets weird. Can anyone explain why former *NSYNC member JC Chasez, accused joke thief The Fat Jew, and model Kendall Jenner were invited? Are they there because they have really, really good agents, or just to provide humorous camera cutaway fodder? Either way, this is one show I don't want to miss.