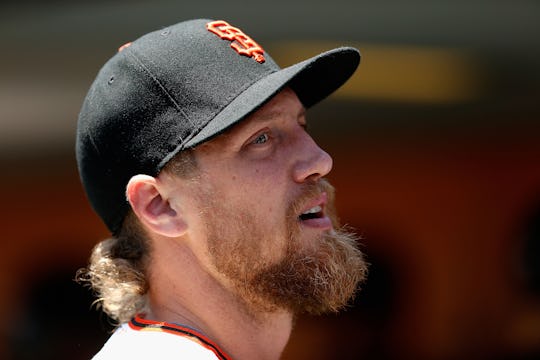 Lachlan Cunningham/Getty Images Sport/Getty Images
Who Is Hunter Pence? Stephanie Tanner Is Dating A San Francisco Giant
Much like the original series, Fuller House follows the hijinks of the Tanner family plus one: In Full House it was Danny Tanner, his brother-in-law Jesse Katsopolis, and close friend Joey Gladstone. Fuller House follows the two oldest Tanner daughters, D.J. and Stephanie, along with their recently-moved-in former next door neighbor, Kimmy Gibbler. All three ladies are single: D.J. is a widow, Kimmy is divorced, and Stephanie's more than happy to have fun on the dating scene as an unattached free spirit — that is, until Fuller House episode nine, "War of the Roses" when she phones a beau nicknamed "Mr. Baseball." So, who is Stephanie's mystery man?
Episode 10, "A Giant Leap," solves the mystery for us as Stephanie introduces Hunter Pence, right fielder for the San Francisco Giants, to her assembled family and friends. Pence is able to get Stephanie a singing gig at the Giants' baseball game that day and has gotten tickets for everyone to see him play and hear her sing. Everyone loves a good IRL guest starring appearance, and Pence's performance in Fuller House is just the right amount of camp that you'd expect from the show.
Of course, Stephanie's choice of boyfriend — or rather, Pence's choice of girlfriend — isn't without some criticism. When remarking on Pence's recent slump at the plate, D.J.'s oldest son Jackson yells accusingly: "You're the mystery blonde! You're the jinx! It's all over the Internet!" In truth, Pence is a pretty stand out player for the San Francisco Giants: Pence holds a .284 batting average. (The Internet tells me this is a good thing, as I know next to nothing about baseball statistics.)
And while Stephanie Tanner may have (briefly) snagged her baseball beau on Fuller House — it's a short romance — he's already attached in real life, too. Pence proposed to his girlfriend, Alexis Cozombolidis, this past December in Disneyland in Anaheim, California in quite possibly the sweetest proposal ever. Pence fooled his girlfriend into thinking they were being interviewed for a Disney Parks Blog segment when he pops the question — followed by fireworks right on cue:
Pence is no stranger to the antics of Full House, either. In August 2015, the San Francisco Giants filmed Full House video of their own: A shot-for-shot remake of the Full House opening to promote a special "Full Clubhouse" event in September of that year. That's right: The San Francisco baseball team had their own Full House tribute day at the ballpark. Here's the clever video below, along with Hunter Pence's take on Danny Tanner.