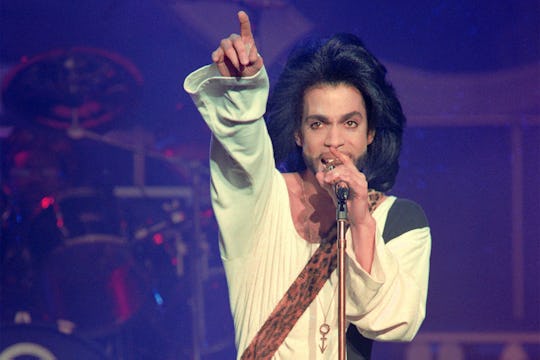 BERTRAND GUAY/AFP/Getty Images
Who Is In Charge Of Prince's Estate? The Late Musician Was Worth A Lot Of Money
With the world still reeling from news of Prince's death Thursday, there are a lot of questions left unanswered. The official cause of Prince's death is still unknown, and now, many are also wondering about what will happen to his music and his substantial assets now that he's gone. Who is in charge of Prince's estate? Not much is publicly known about Prince's private life, including whether he had a will. But according to the Daily Mail, his fortune (which is estimated to be around $300 million) could potentially end up going not to a specific person, but to his church. At the time of his death, Prince was not married and had no living children. But he was an active Jehovah's Witness and is thought to have regularly attended Kingdom Hall meetings for the past 15 years, so it's entirely possible he could have wanted to donate his money to his faith.
Another possible beneficiary of his estate? Prince's sister Tyka Nelson. Both of Prince's parents are deceased, and while he did have some siblings, it's thought that two of them have also died, and he may not have been particularly close to the ones still alive. But Nelson was the first relative of Prince's to speak up publicly following his death, telling fans at Prince's estate, Paisley Park, "he really loved you all," according to Us Weekly.
Prince was married twice during his life, according to the Daily Mail, first to backup dancer Mayte Garcia in 1996, and later to Manuela Testolini in 2004 (they divorced two years later). According to the International Business Times, Prince and Garcia had a son together, although he lived for only a week after his birth due to a condition called Pfeiffer syndrome. They divorced in 1999, which is when Prince became a Jehovah's Witness, reportedly to help him heal from the loss of his son and his marriage.
According to the Melbourne Hearld-Sun, whoever takes over Prince's estate will have access to what his sound engineer Susan Rogers confirmed to be an underground vault full of unreleased material. Prince was, after all, a hugely prolific artist who struggled with wanting to release significantly more music than he was contractually able to while being signed to a major label (it was one of the reasons he eventually started his own label after his contract ended). While the vault had long been a rumor amongst fans, it sounds like the material that Prince has left behind is enough to keep his musical legacy actively alive for decades.
Even though there are still a lot of unanswered questions surrounding Prince's death, one thing is absolutely clear: the loss of Prince has — and will continue to be — huge, both for musicians and fans alike. Since news of his death came to light, tributes have been pouring in for the music legend, and many people are still left in disbelief. But whatever ends up happening to his fortune, it sounds like fans haven't yet heard the last of Prince's music and artistry, and that, at least, is comforting.