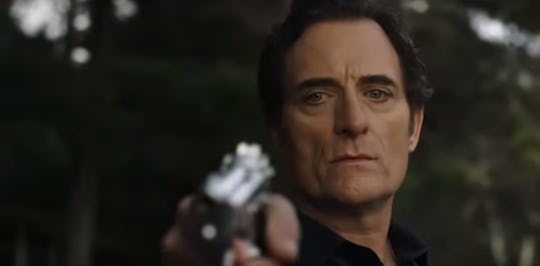 CityTV/Youtube
Netflix's New Crime Drama 'Bad Blood' Has A Familiar Cast
With its latest series, Bad Blood, Netflix is giving true-crime fans something new to obsess over. The crime drama tells the story of Vito Rizzuto, a real-life mafioso who ran an organized crime empire in Montreal. After one look at the trailer, you can see that the series is chock full of intense performances, including a few from some familiar faces. So exactly who is in the cast of Bad Blood?
Bad Blood stars Australian actor Anthony LaPaglia in the leading role as mobster, Vito Rizzuto. You may recognize LaPaglia from his Golden Globe Award-winning role as Jack Malone in Without a Trace. The actor also picked up two Primetime Emmy Awards for his portrayal of Daphne's brother, Simon on Frasier. However, in Bad Blood, LaPaglia's character is far from funny. He plays the real-life "Teflon Don," head of a Canadian crime family who ran one of the largest drug smuggling operations in the world.
Bad Blood is loosely based on Antonio Nicaso and Peter Edwards' Business of Blood: Mafia Boss Vito Rizzuto's Last War, a true-crime book that delves into the life of Vito Rizzuto, and the violent and deadly rise of his criminal empire. While the series covers many aspects of Rizzuto's life and dealings, it also features a few fictional elements and characters not found in the book.
The most prominent fictional character is Declan Gardiner, played by actor Kim Coates. If the actor looks familiar, it's because you may have seen him playing the criminal drug and weapons smuggler Alexander "Tig" Trager on Sons of Anarchy. In Bad Blood, Coates' character is Vito's right-hand man whose loyalty has earned him a top rank in the organization. He is tasked with managing the mafia's internal and external dealings, including the job of keeping Vito's family in check during rough times.
"Declan had no family, came from nowhere," Coates said in an interview with Televixen. "He was a street thug, and Vito saw very early on something that was beyond brawn and muscle — the 'smarts'. Like Robert Duvall in The Godfather, Declan's not Italian, he's Irish, but [The Rizzutos] bring him in and it's the first time he's had a family in his life. Declan would cut his own head off to save Vito, Nico and even Nico, Jr. who Declan has barbs with." While Declan's character is fictional, some people believe that he may be loosely based on a real person. According to Refinery29, some reports suggest that Declan is based on Raynald Desjardins, a Montreal based mafia boss who was once a high-level associate of Rizzuto.
But while some characters may be fictional, there are many characters that are based on other real-life players in Rizzuto's life, including his immediate family. Actor Paul Sorvino (Mira Sorvino's dad) plays Vito's father Nicolo Rizzuto, the original founder of the Rizzuto crime family, and actor Brett Donahue play's Vito's oldest son, Nico Jr.. Both Nicolo Sr. and Nico Jr. were assassinated in real-life (and in the series), and their criminal dealings played a prominent part in Rizzuto's rise and fall to power.
The cast includes other notable actors, including Enrico Colantoni as the Rizzuto family consigliere, Bruno Bonsignori; Maxim Roy as Vito's confidant, Michelle; and Michelle Mylett as his mistress, Sophie. While many of these characters are fictional, they may be loosely based on people that were in Rizzuto's orbit during his criminal reign.
Combined with its intense story and amazing cast, Bad Blood seems like crime drama viewers can really dive into. The series is currently streaming its six-episode debut season on Netflix.
This first-time mom wants to have a home birth, but is she ready? Watch how a doula supports a military mom who's determined to have a home birth in Episode One of Romper's Doula Diaries, Season Two, below. Visit Bustle Digital Group's YouTube page for the next three episodes, launching Mondays in December.