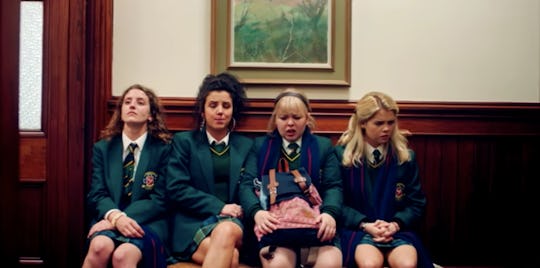 Channel 4/YouTube
'Derry Girls' Is Coming To Netflix After Smashing Success In Northern Ireland
Derry Girls is an import from across the pond making its way to Netflix on Dec. 21. It's a comedy set during the Troubles in Northern Ireland in the 1990s, and it follows a group of friends as they come of age in a difficult time. But who is in the cast of Derry Girls on Netflix?
The show revolves around Erin (Saoirse-Monica Jackson) and her cousin Orla (Louisa Harland), as well as their friends Clare (Nicola Coughlan) and Michelle (Jamie-Lee O'Donnell). Michelle's English cousin James (Dylan Llewellyn) is part of the crew, too. The Irish Times reported that it was Channel 4's most successful comedy since 2004, earning an audience of 2.5 million in Britain alone. It was also the most-watched show in Northern Ireland.
Derry Girls takes a major moment in history and makes it personal by focusing on a group of teenagers living through it. Though it's a serious situation, it's also something that the protagonists deal with on a daily basis while they're figuring out all the other things teens have to contend with as they grow up. The girls have been a hit with audiences so far and now that it's coming to Netflix, you can get to know all of them, too.