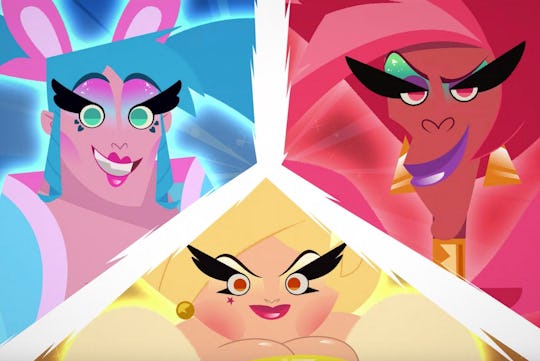 Netflix
Here Are All the 'Drag Race' Alums You'll Hear On 'Super Drags'
Super Drags is Netflix's animated answer to the question: "What if The Powerpuff Girls, but drag queens, and instead of fighting against an evil monkey named Mojo Jojo, they had to save the world from an evil drag queen who commits hate crimes against the LGBTQ+ community by stealing all the world's glitter?" In other words: a completely brilliant idea. So viewers are probably dying to know: who is in the cast of Netflix's Super Drags? It's basically a RuPaul's Drag Race star vehicle.
The series was originally developed in Brazil but it got picked up by Netflix with an all-new English-language voice cast, featuring some very familiar-sounding voices. The show follows three gay friends — Patrick, Ralph, and Donizete — who work mundane department store jobs by day. But by night, they "tighten up their corsets and transform into the baddest Super Drags in town, ready to combat shade and rescue the world's glitter from the evil villains." Their drag queen alter-egos are named Lemon Chiffon, Cran's Sapphire, and Crimson Scarlet and each of them possess special super powers. Their primary foe is, of course, Lady Elza, the aforementioned shady queen who's been siphoning off every speck of glitter from the LGBTQ+ community and bringing them all down. There's also a Professor Utonium-type leader of the gang named Champagne, voiced by Drag Race All-Stars Season 3 winner Trixie Mattel.
Donizete/Scarlet is voiced by Shangela, Drag Race's only three-time contestant, who is fresh off an appearance in Lady Gaga and Bradley Cooper's A Star Is Born. Willam, Drag Race Season 4 alum and the only contestant to ever be disqualified, also appears alongside Shangela in A Star Is Born, and joins her in the cast of Super Drags, lending her voice to the villainous drag queen Lady Elza. Patrick/Lemon Chiffon will be voiced by Ginger Minj, Drag Race: All Stars Season 2 contestant, who will also make an appearance in the upcoming Jennifer Aniston-anchored musical comedy Dumplin'.
According the Netflix official description, "Whether they're facing a shady customer, or outright bigotry, these queens are ready to spread their glitter and twerk away the shade," which is a surprisingly apt description for a show that has already stirred up controversy with Christian conservative groups. Despite the trailer's clear messaging that the series is intended for adult audiences, an animated series about heroic gay men and drag queens is obviously riling conservative media watchdog groups.
The Brazilian Society of Pediatrics condemned the show when it first premiered in Brazil, according to Plataforma, and later, the Christian Film and Television Commission came out against the U.S. series, according to NewNowNext. The latter even started a Citizen Go petition trying to get the series pulled called "Help Us STOP Netflix Animated Transvestite Series!"
Needless to say, they failed. Voguing, twerking, corsets, a fierce beat, and maybe (hopefully?) some unexpected love stories prevailed. From the looks of their social media accounts, the Drag Race family is super pumped for the show to premiere, and you can tune in, too, when Super Drags drops on Netflix Friday, Nov. 9.