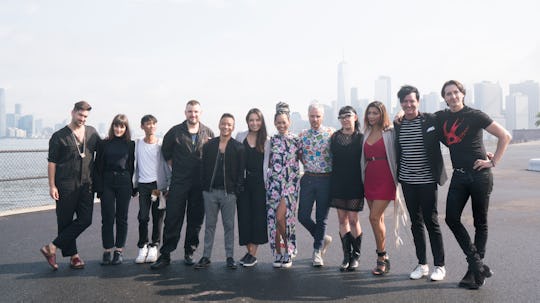 Lifetime
Here Are The 14 Designers Competing On 'Project Runway All Stars' Season 7
When the seventh season of Project Runway All Stars premieres on Lifetime on Jan. 3, it will also be the series' very last. But that's not the only thing that's unique about the show this year. It's opening up the competition to several international winners who made their mark on the Canadian, Australian, and Brazilian editions of the show, among others. But who is in the cast of Project Runway All Stars Season 7?
Quite a few of the cast members got their start in the U.S. version of Project Runway, but Season 7 makes the challenge global. Entertainment Tonight revealed that the winner wouldn't just be considered an all star because they won a previous season; they would also be "world champion of the catwalk." The competition is split neatly down the middle: seven of the 14 competitors are from the States, while seven are joining the show from abroad. Whoever wins will receive $100k and a spread in Marie Claire, as is tradition by now. But they also get a trip to London, a Brother Sewing and Embroidery studio, and a capsule collection with JC Penney.
You may be familiar with more than a few of these contestants because of their past Project Runway success, but if you're not, then you can get to know them before the new season launches.