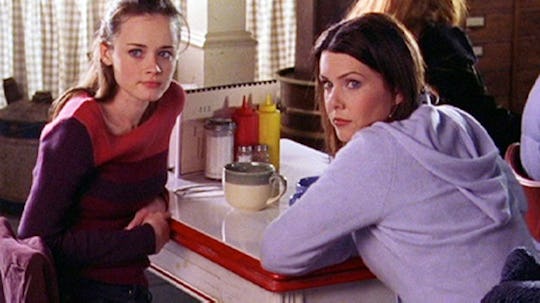 CW
Who Is In The 'Gilmore Girls' Revival On Netflix? Almost Everyone You Need To Be There
Stars Hollow fans, the rumors are true. Variety announced earlier today that Gilmore Girls: Seasons is coming to Netflix. As expected, the Internet has been losing it ever since, with fans interrupting their collective freaking out only to demand details. Will it be good? Will it be as food as fans need it to be? And perhaps most important, Who is in the Gilmore Girls revival on Netflix? You can breathe on that last point, because the reboot stars six original cast members, plus some new additions, Variety reported. There's no word yet on who the new characters are that they're playing, but that just makes you want to see it more, right?
I mean, how crazy is it that the cast is coming back to reprise their roles nearly a decade after the show went off the air? I can hardly wait. But wait I will, as Netflix just confirmed that filming on Gilmore Girls: Seasons has just begun, and the series isn't likely to air later this year or early 2017, Deadline reported. The revival will be presented in four mini-movies, each 90 minutes long and set in a different season of the calendar year, TVLine reported. In an interview with Entertainment Weekly in October, star Lauren Graham (Lorelei) said, "What's fun to imagine is the way in which now, at this age, these two are even more of best friends." I can't even. According to EW, Rory will be in her late 20s as the series picks up, so I'm envisioning lots of crazy adult adventures.
So which original cast members are confirmed for the reprisal? Let's take a look:
Lauren Graham As Lorelei Gilmore
How many times growing up did you wish Lorelai was your mom?
Alexis Bledel As Rory Gilmore
Bookworm, bombshell, great friend, good kid: we know Rory was all of these things. The big question is where everything Rory had going for got her. Where is she now?
Scott Patterson As Luke Danes
With a mug like that, who wouldn't want to stop into his diner for a cup of coffee?
Kelly Bishop As Emily Gilmore
It was never exactly smooth sailing between Emily and Lorelai, but Emily got sh*t done, and she clearly cared deeply for both Lorelai and Rory. What's her relationship with L like now?
Sean Gunn As Kirk Gleason
OMG, remember this creepy dance?!
Keiko Agena As Lane Kim
Always more than a sidekick, Lane was a fully fleshed out character. And together, she and Rory epitomized#friendshipgoals. Let's hope she is doing something fantastic with her life in Seasons.
Now for who's either not in the revival or unconfirmed. There's no word yet whether Melissa McCarthy will return as Sookie St. James, Lorelai's BFF. And Edward Herrmann, the beloved actor who played Richard Gilmore, died of brain cancer in late December, so he will certainly be missed.
With a trip back to the Dragonfly Inn on the horizon, it's fun to think about what's changed in Stars Hollow and what hasn't. I'd imagine like any family in real life, relationships have shifted and new tensions are brewing. Like everyone else, I can't wait to see the new chapters the show's original creators, wife and husband team Amy Sherman-Palladino and Daniel Palladino, have in store for the Gilmore Girls 2.0.
Images: Giphy (5); chanel1234/YouTube