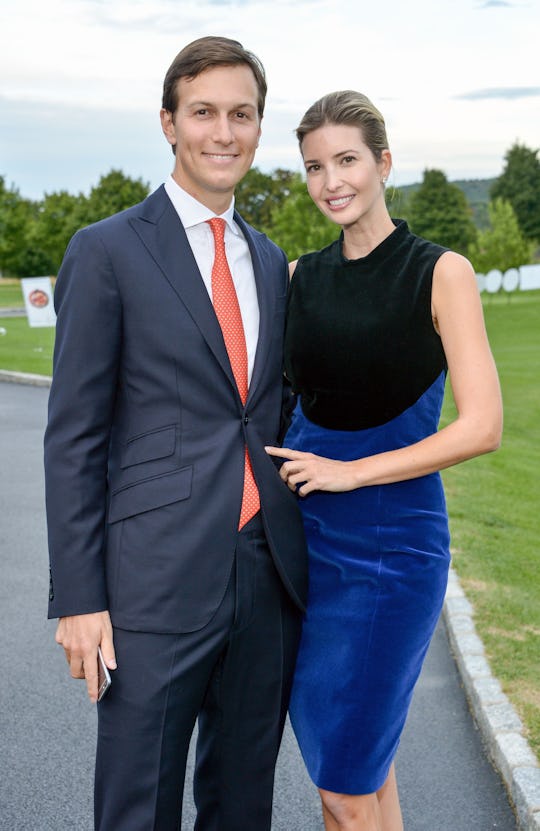 Grant Lamos IV/Getty Images Entertainment/Getty Images
Who Is Ivanka Trump's Husband? Jared Kushner Is A Success In His Own Right
In one of the week's happier moments on Sunday, businesswoman and entrepreneur Ivanka Trump announced the birth of her third child, a baby boy by the name of Theodore James. The little tot joins sister Arabella, 4, and brother Joseph, 2. Trump seemingly has her hands full, with business ventures and stumping on the 2016 campaign trail for her father, billionaire mogul and current GOP front-runner Donald Trump. Thankfully, she's not going it alone: Trump's husband, Jared Kushner, is well-versed in multitasking himself.
Trump and Kushner first met in 2007 and dated for two years before marrying in a traditional Jewish ceremony in October 2009 (Trump converted to her husband's Jewish faith after studying with Rabbi Elie Weinstock from the Modern Orthodox Ramaz School a few months prior to her wedding). In 2011, the couple welcomed their first child, daughter Arabella Rose Kushner, and in October 2013, Trump gave birth to the family's second child, a son named Joseph Frederick Kushner. On Sunday, Trump announced that the couple had welcomed a third child, Theodore, in a post on Trump's official Twitter account. "Jared and I feel incredibly blessed to announce the arrival of Theodore James Kushner," she wrote, adding in a simple graphic, "It's a boy!"
The owner of The New York Observer and a longtime real estate developer, Kushner maintains a busy work life outside his familial duties as well: Educated at Harvard University and NYU's prestigious School of Law, Kushner earned his stripes interning under former New York County District Attorney Robert Morgenthau in the summer of 2004. Although one reporter claimed that Kushner had only been admitted to Harvard due to his father's substantial donation of $2.5 million, Kushner later proved to be a success in both the worlds of real estate investment and media publishing.
In 2011, The New York Post reported that Kushner had even managed to revive the previously floundering Observer and turn a profit for the first time in the paper's recent history. "We're expecting a small profit in 2011 and a more substantial one in 2012," Observer Media Group President Christopher Barnes told Media Ink in a statement that year.
Curiously enough, although his high-profile father-in-law, Donald Trump, is currently running as the 2016 GOP presidential front-runner, Kushner himself is reportedly a Democrat, having contributed to several Democratic campaigns over the years; According to Fox Business, Kushner and wife Ivanka Trump previously threw a fundraising event for Democratic Sen. Cory Booker as well. When Donald Trump announced that he would be running for president, his newspaper, The Observer, admitted that it threw the organization into a quandary.
"There's no good way to cover Trump's candidacy from an opinion perspective," said one of the paper's editors, Ken Kurson, in an interview with The Huffington Post last year. "If we run something pro-Trump we will automatically be accused of carrying water for him (on account of the relationship to our publisher). If we run something anti-Trump, we will be accused of trying to curry favor with our peers in journalism ... I just want us to try to do the right thing."
Later, the paper noted in a column that despite the struggle, it would "take its time to try to get it right and present coverage that is thoughtful and relevant."
As for his personal life, Kushner seems to be just as busy, keeping his hands full helping wife Ivanka and drawing motivation from her ability to handle it all while maintaining a successful business empire. "I find repeatedly that wherever I go in the business world, women young and old tell me what a role model my wife is for them," Kushner told Town & Country magazine in an interview last December. "It's incredible to see the impact she has had on them." He added that Trump was a "great wife and mother" and a "big thinker." "[She's] charismatic, practical, very thoughtful, and compassionate," he said. "She doesn't just compete in five arenas; she thrives in them."
With parents like Trump and Kushner around, it's unlikely that little Theodore and his two siblings will ever be at a loss for inspiration.