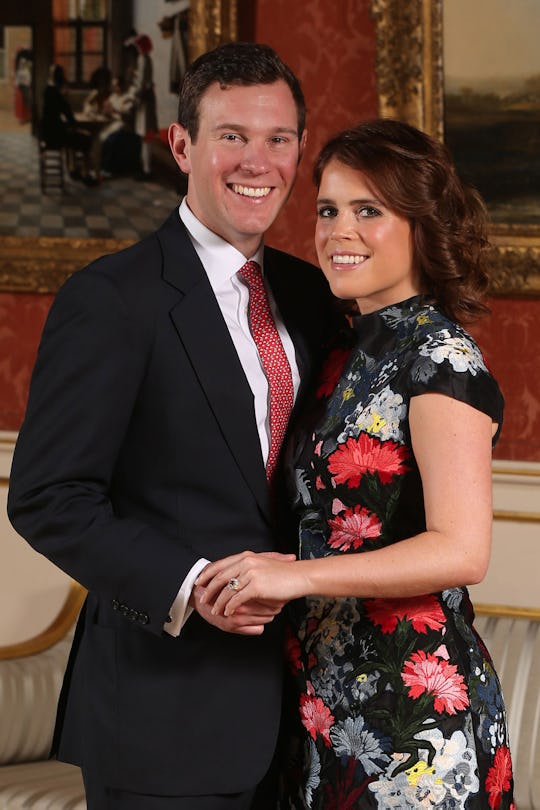 WPA Pool/Getty Images Entertainment/Getty Images
Everything You Need To Know About Jack Brooksbank, Princess Eugenie's Fiancé
Another week, another royal wedding... just kidding. Though royal weddings don't come around all that often — and they're spectacles, if not cultural phenomenas when they do — it's pretty spectacular that there are two nuptials in the family in 2018. This week, Princess Eugenie will be walking down the aisle at St. George's. It's left many wondering: Who is Jack Brooksbank? Eugenie's fiancé says he's "nervous" about joining the royal family.
The Guardian reported that Brooksbank, who is 32, is a nightclub manager, and he began dating Eugenie seven years ago. The son of an accountant and business director, Brooksbank went to elite schools before he "eschewed" university and opted to dive right into his chosen career in hospitality, working first as a waiter and then wine merchant.
The pair reportedly met on a ski trip, and dated long-distance for the past couple of years.
Now, the couple is due to wed come Friday, as Buckingham Palace announced: "The Duke and Duchess of York are delighted to announce the engagement of Princess Eugenie to Mr Jack Brooksbank. Her Royal Highness and Mr. Brooksbank became engaged in Nicaragua earlier this month. The wedding will take place in the autumn of 2018 at St George's Chapel in Windsor, with further details to be announced in due course."
Though it's undoubtedly an exciting time for the couple, Brooksbank has been transparent about the obvious stressors that come with not only entering such a high-profile family, but doing so in such a visible way. Express.co.uk reported he said: "I'll need to take a few minutes for myself before the speeches because I am terrified... It's very exciting but I am a little bit nervous."
However, despite the (justifiable) nerves, Eugenie is confident that her soon-to-be husband will not only get along swimmingly with the royal family, but that they will have a strong marriage, as their values are very much aligned. "We met when I was 20 and Jack was 24, and fell in love," Eugenie in an interview with the BBC. "We have the same passions and drive for life. It's so nice that we get to share this moment with everyone, and you get to meet Jack."
And it's not only Eugenie who is confident about Brookbank's place in the family. Her parents love him just as much.
In another interview, Prince Andrew said that he's "thrilled" for his daughter, and that he's confident about her relationship with Brooksbank, Town and Country reported. "Jack is an absolutely outstanding young man and Eugenie and he have got to know each other over a number of years, and I'm really thrilled for them... I'm just completely overjoyed for them and wish them every happiness," he said.
Eugenie's mother, Sarah Ferguson, agrees with Prince Andrew's assessment.
In another interview, Express.co.uk reported she said: "We love Jack and I am so excited to have a son." Ferguson continued: "Jack is a really sort of amazing bringer of light and he brings joy... I say to Jack, 'Always just stay yourself,' and I'd say that to anybody, just be yourself. What else can you do in life?"
Fergie also joked that she enjoys Brookbank's career choice, and the two drink together. "The good news is Jack also works as the European Manager for Casamigos Tequila, so I am perfect... He'll just hand me the tequila and say, 'Come on, mother-in-law, down it.'"
With just a few more days to go before the two tie the knot, it seems that Brookbanks is going to be more than welcomed into the family in what is truly a spectacular year for the royals.