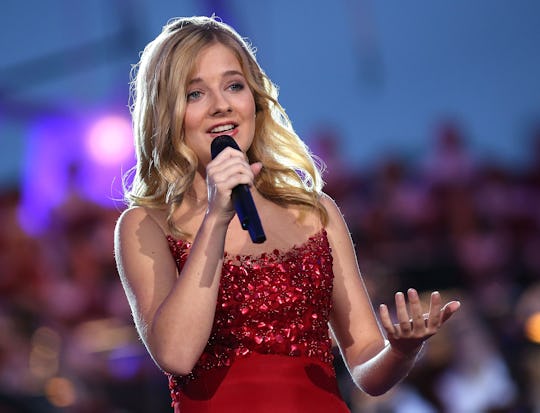 Paul Morigi/Getty Images Entertainment/Getty Images
Who Is Inauguration Performer Jackie Evancho?
Jackie Evancho is scheduled to sing at the Inauguration of Donald Trump on January 20, 2017. The 16-year-old classical-pop singer is set to sing the national anthem at the event, which is a pretty big gig for someone who's career is fairly young. So just who is Jackie Evancho, and why did she decide to accept the offer?
Jacqueline Marie "Jackie" Evancho placed second on America's Got Talent in 2010, but she entered talent competitions and performed before her big break on the reality television talent show. Since her second-place showing on AGT, Evancho has released an EP and six albums. She covers classic movie songs and has a knack for Christmas tunes, and a few years ago she became the youngest performer to headline Lincoln Center in New York City as a solo artist.
Evancho was only 10 years old when she performed on the show, and has gone on to sing at plenty of other events since. In fact, in 2010, she sang at the National Christmas Tree lighting for the Obama family, and went back to Washington to perform at the National Prayer Breakfast two years later in 2012. So this isn't her first time singing for a political event or a president.
What else do we know about the young singer? Well, apparently she doesn't just stick to singing. In 2012, she had a small role in the movie The Company You Keep, starring Robert Redford, Susan Sarandon, and Shia LaBeouf. She's also done some modeling work.
Evancho has three siblings, including a younger brother, Zachary, and a younger sister named Rachel. An interesting point that's been brought up a lot since it was announced that Evancho would be performing at the Inauguration is that the young singer also has a transgender sister. As Bustle writer Courtney Lindley noted:
Considering Trump's stance toward the LGBTQ community, not to mention vice president-elect Mike Pence's, Evancho's willingness to perform for Trump seemingly clashes with her sister's quest for equality and acceptance.
Evancho herself has said that, "My family is kind of a big target. I have a transgender sister and so a lot of hate goes towards us." Her sister, Juliet, is involved in a lawsuit regarding restroom access against a Pennsylvania school district, and she's spoken publicly about coming out as transgender.
But Jackie seems unmoved by the criticism, and is still scheduled to sing at the event this month. And with the career she already has under her belt at an age that doesn't even allow her to vote, if she chooses to, she will likely have many more public performances in the years to come. Maybe even more presidential inauguration events — after she is allowed to head to the voting booth.