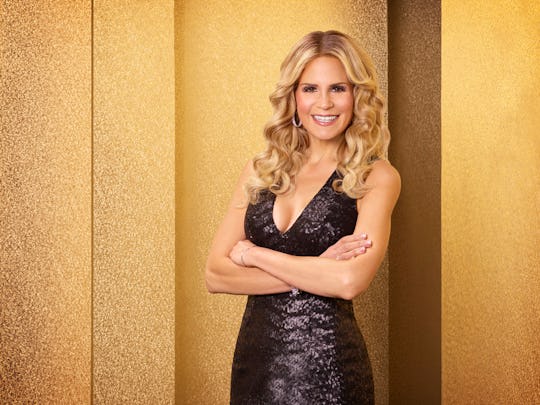 Tommy Garcia/Bravo
Jackie Goldschneider Joins 'RHONJ' For Season 9
There will be some new faces in the cast of Bravo's The Real Housewives of New Jersey when Season 9 starts on Nov. 7. Though most of the women from Season 8 are returning (goodbye, Siggy Flicker, may you never see another cake destroyed in your presence), there will be two new ladies joining the crew. Jennifer Aydin is one, while Jackie Goldschneider is another. But who is Jackie Goldschneider?
Jackie is a pal of pigtail aficionado Margaret Josephs, according to her bio on Bravo's website. That may give her an in with the group, but she'll still have to find a way to make friends with the rest of the Housewives. And it might not be easy, as her bio describes her as a big fan of giving advice, which probably won't go over well with everyone else. When Jackie isn't offering new friends unasked for advice, she's busy with her family and her career.
Though previously a real estate attorney, Jackie now works as a journalist, supplying a local New Jersey paper with a parenting column. She's also been published on PopSugar and the Huffington Post. She has plenty of experience in the field, because she's the mother of two sets of twins under 10, three boys and a girl. "Being a mom is the most amazing thing I have ever done," she told Bravo in an introductory video. "It's my favorite thing in the world."
In her intro video, Jackie shared five key facts about herself that will help viewers get to know her a little bit better before the Season 9 premiere. In addition to her love of motherhood, Jackie adores running and music, stating that "a really good song will send me into madness. I love it. It makes me want to dance, go crazy, go out." Cheese is also among her chief joys in life and she said she'd eat it for every meal of the day if she could, including dessert. (Same.)
But it's Jackie's most beloved motto that might offer the most insight, as it's something she's relied on over the years. It has a certain je ne sais quoi, as in I do not know what it is actually supposed to mean. It would be an ideal credit sequence tagline, though. "My favorite saying is, 'Don't cry over something that can't cry over you,'" Jackie reveals. "And I've lived by that." Does that mean I'm not supposed to bawl over episodes of The Good Place, because a TV show is technically incapable of returning the favor? Something to think about.
New additions to the Real Housewives can have trouble adjusting, no matter what city they're joining. Not only do they have some very strong personalities to contend with, but they have to make their mark with the audience at home, too. Fans can figure out how they feel about Jackie as soon as Season 9 begins, but it sounds like she might be able to make it work. If she can handle a team of small children on the daily, she can probably handle the rest of the Housewives.