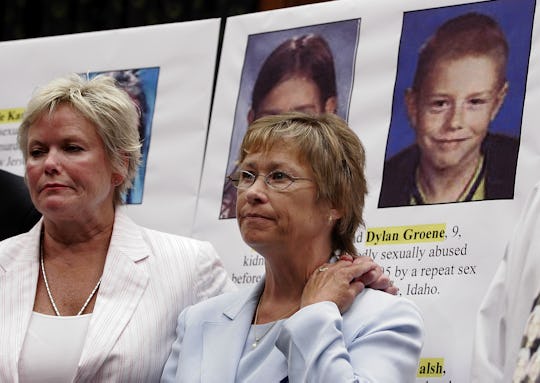 Chip Somodevilla/Getty Images News/Getty Images
Who Is Jacob Wetterling? The 11-Year-Old's Remains Were Finally Discovered
It is always important to remember to never give up on hope — sometimes, doors closed for 20 years can suddenly reopen again. The immense power of hope can lead to these open doors and give people some peace of mind — something that happened for the parents of Jacob Wetterling on Saturday. Those wondering who Jacob Wetterling is should know that his story is over 26-years-long, but finally ends in some peace of mind.
Jacob Wetterling is a boy who disappeared in 1989 at the age of 11; 27 years later, on Sept. 3, his remains were confirmed to have finally been found, although authorities have so far chosen not to disclose how or where the remains were uncovered. The story is truly heartbreaking — from his disappearance to the lengthy, exhaustive search to find Wetterling.
According to NBC News, Wetterling had disappeared while riding his bike home from a convenience store with his brother and friend in Stearns County, Minnesota. According to the two boys, a man wearing a mask and wielding a gun had taken Wetterling with him. According to CNN, "the man asked the boys their ages, grabbed Jacob, and told the other boys to run in to the woods or else he'd shoot." Jacob's disappearance led to the FBI aiding in the search and tens of thousands of tips giving information about the disappearance, but all had resulted in dead ends, according to CNN.
There had been one alleged suspect in Wetterling's disappearance — according to NBC News. A man named Danny Heinrich had been arrested in 2015 as a "person of interest" in the case. Allegedly authorities found DNA reportedly tying Heinrich to another kidnapping of another boy around the same time. However, no charges were filed against Heinrich at the time due to a statute of limitations in Minnesota, although Heinrich remains in custody due to other unrelated charges.
Wetterling's remains were finally found on Saturday, according to CNN, after the Stearns' County Sheriff's Office reported in a statement that a medical examiner and forensic dentist confirmed that the remains belonged to the missing boy. According to The Minneapolis Star Tribune, Heinrich reportedly provided the information that led investigators to the boy's remains. According to CNN, "investigators will evaluate new evidence" and provide more detailed information next week.
Wetterling's disappearance and his mother's persistence to find him led to the discovery of Jacob's Law — a law created in 1994 that tracks sex offenders in communities by making them register their address. Wetterling's disappearance also led to the creation of the Jacob Wetterling Resource Center — an online center to help educate and assist families and communities about the exploitation of children. After the discovery of Wetterling's remains on Saturday, the center posted an official statement to its website:
We are in deep grief. We didn't want Jacob's story to end this way. In this moment of pain and shock, we go back to the beginning. The Wetterlings had a choice to walk into bitterness and anger or to walk into a light of what could be, a light of hope. Their choice changed the world.
Our hearts are heavy, but we are being held up by all of the people who have been a part of making Jacob's Hope a light that will never be extinguished. It shines on in a different way. We are and will continue to be Jacob's Hope. Jacob, you are loved.
It was the Wetterlings refusal to give up that led to the heartbreaking, but long-awaited discovery of Jacob's remains. Jacob's disappearance is tragic, but this news, 27 years later, will hopefully give the family some peace at last.