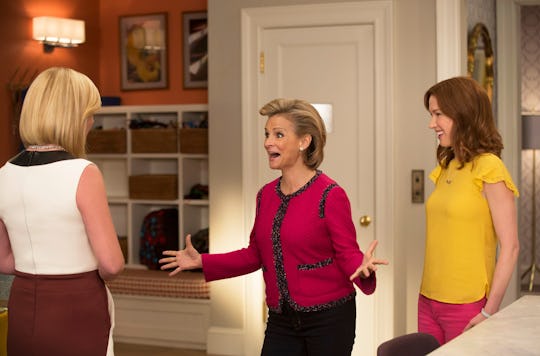 Eric Liebowitz/Netflix
Who Is Jacqueline's Friend On 'Unbreakable Kimmy Schmidt'? Amy Sedaris Is Better Than Ever
Season 2 of Unbreakable Kimmy Schmidt finds Jacqueline reeling from her divorce, "broke" (with a paltry $12 million settlement), and scheming at how to get back at her husband Julian, who is already being photographed out on the town with other women. News of the latter is broken to Jacqueline by her old friend, Mimi Kanasis, whom we first met in the Season 1 episode "Kimmy Is Bad at Math." She returns this season to play Jacqueline's wing-woman on a mission to get herself a new piece of arm candy. So who plays Jacqueline's friend on Unbreakable Kimmy Schmidt?
With a mile-long resume, there are about a thousand different places you might recognize author, screenwriter, and actress Amy Sedaris from. She's best known for her work on the series Strangers with Candy, which she also co-wrote. She frequently collaborates with her brother, author and humorist David Sedaris, in print work. And she's also collaborated with Tina Fey before, appearing on a 2012 episode of 30 Rock. Sedaris had recurring guest roles on Sex and the City, Rescue Me, The Closer, The Good Wife, and Raising Hope, though most recently, she's been voicing the character of Princess Carolyn on BoJack Horseman.
She even made a cameo appearance on an early episode of Broad City, playing the realtor Pam, who tried to convince Abbi and Ilana that this hallway was actually a railroad apartment.
On Kimmy Schmidt she plays Jacqueline's fair-weather friend, who stands by her when they've both been scorned by rich men, and happily goes out with her to try and woo new rich guys. But, once Jacqueline finds a little self-empowerment (thanks to Kimmy) and decides she feels comfortable attending rich people functions solo, Mimi turns on her. (And then, once Jacqueline is re-embraced by high society because she and Kimmy get mistaken for a chic queer couple, Mimi once again declares Jacqueline "my best friend!")
Poor squad member etiquette aside, Sedaris's turn on Season 2 of Kimmy Schmidt is packed with the same raunchy, hilarious, zany work we've come to love from her, and the delightfully unhinged friendship between Mimi and Jacqueline is some of Unbreakable Kimmy Schmidt's most fun scenes to watch on Season 2.