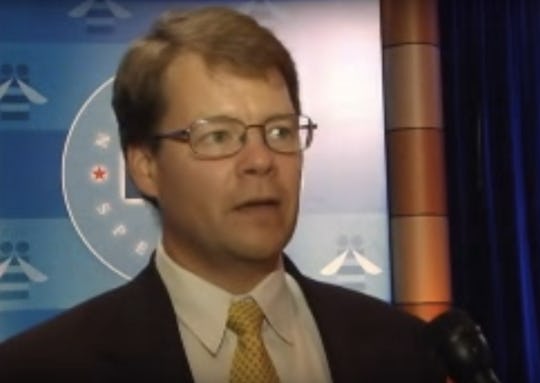 Neil Simon/YouTube
Who Is Jacques A. Bailly? The Voice Of The Spelling Bee Has A Great Backstory
If you thought spelling words in front of your fifth grade teacher was terrifying, try doing it in front of a nationally ranked speller. The 89th Scripps National Spelling Bee is almost here, and the 285 competitors have the added pressure of spelling words perfectly for Jacques A. Bailly, in addition to the millions of people watching from home. But who is Jacques A. Bailly, and why does he make children shake in their oxfords?
For those who don't run in the spelling bee circuit (and I assume most people don't), Bailly has been the pronouncer of the Scripps National Spelling Bee since 2003, according to ABC News. As the voice of the spelling bee, it is Bailly's job to perfectly enunciate the words for competitors, which have included pococurante, cymotrichous, and scherenschnitte, just to name a few. (Yeah, don't even ask me what they mean. That's what Google is for.) If Bailly mispronounces the words even slightly, it can mean the difference in hearing the ding of approval and the buzz of dismissal. Needless to say, it's a difficult job. And what makes it more difficult for Bailly is that he has been on the other side of the microphone as a competitor.
According to the official Scripps National Spelling Bee site, Bailly won in 1980 with the word elucubrate. Because he's been there, spelled that, Bailly is especially sympathetic to the challenges the competitors face. "I always want them to get all the words right," Bailly told Time during a 2009 interview. "I try to make it clear to the spellers that I'm there to give them absolutely every possible thing that I can to help them — within some limits.
What are those limits? According to the 2016 Scripps National Spelling Bee Contest Rules, the pronouncer may "offer word information — without the speller having requested the information — if the pronouncer senses that the information is helpful and the information appears in the 2016 Scripps National Spelling Bee word list or Webster's Third." If a competitor does make a request, the pronouncer can only respond if it is a request for "repetition of the word's pronunciation, a definition, sentence, part of speech, language(s) of origin and alternate pronunciation(s)." Additionally, the pronouncer must indicate which word is to be spelled if the word in quesiton has one or more homonyms.
Definitely not an easy gig, but one Bailly was eager to pursue. In his 2009 interview with Time, the former champion said that he reached out to Scripps to secure a position at the annual spelling competition
"I wrote to the spelling bee and said, 'You know, I won in 1980, and in the 10 years between, I've learned a lot more French, German, Latin and Greek, and I was wondering if you could use some help from somebody like me,'" he told the publication. "And at that point, they just happened to have a need. So I got in there as associate pronouncer, and that job is basically just making sure that everything the pronouncer says is right."
Since then, he's worked his way up to official pronouncer and the role has even earned him some Hollywood cred. According to IMBD, Bailly portrayed himself in 2006's Akeelah and the Bee and consulted on 2002's Spellbound.
So if you're trying to motivate your kids (or yourself) to become a master of the dictionary, just tell them it can lead to Hollywood. After all, it worked for Bailly.