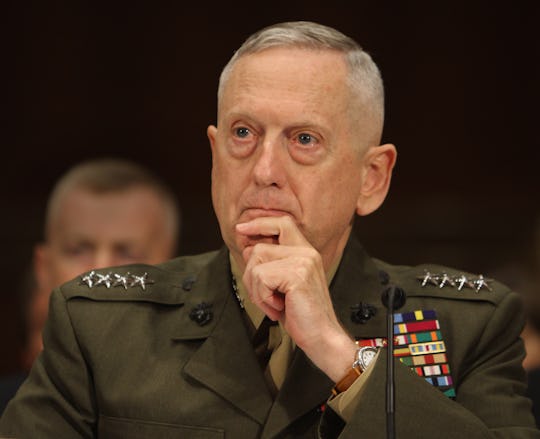 CHRIS KLEPONIS/AFP/Getty Images
Who Is James Mattis? The Retired Marine Corps General Could Shake Up The GOP Race
You may have seen retired four-star Gen. James Mattis pop up in the news in recent talks about the 2016 presidential election. A small collection of wealthy conservative donors are now, according to The Daily Beast, seriously considering drafting the former U.S. Marine Corps General as a possible third party candidate who can challenge GOP frontrunner Donald Trump in the general election. So who is Gen. James Mattis, and does he actually stand a chance?
A group of politically-minded billionaires with conservative ties is ready to pool all their resources behind getting Gen. Mattias to run, according to The Daily Beast; Machinations have already been put into place behind-the-scenes to get Mattis' name on ballots in November. Those donors have gathered a group of political operatives to begin taking the strategic steps needed to formulate a bid. The Republican strategists have already sent a package of six strategic memos to the general that outline how he could win the election, in hopes of bringing to the table for further discussion.
John Noonan, a former aide to Jeb Bush who is now involved in the draft Mattis movement, told The Daily Beast that he believed "a great deal of Republicans would rally behind an American hero if the choice is between Mattis and Trump." He added:
He's a man of character and integrity. He's given his life to his country. How do you ask someone like that to leap headfirst into this toxic mud puddle of a race? It's damn hard. But Trump is a fascist lunatic and Hillary has one foot in a jail cell. That means the lunatic can win. I'd be first in line to plead with the general to come save America.
Here's everything you need to know about Gen. Mattis and his career:
His military career lasted 44 years
The general's distinguished career in the Marine Corps spanned over 4 decades. He served in the Persian Gulf War, Afghanistan, and Iraq. Mattis earned the nickname "warrior monk" for his devotion to the study of military history and strategy.
From 2010 to 2013, he served as the 11th commander of the United States Central Command. As CENTCOM commander, he was responsible for ongoing military operations in Iraq and Afghanistan and covered other conflict zones in the Middle East, North Africa, and Central Asia.
Many see his military prowess as a strength when compared to current-Republican frontrunner Donald Trump. In a memo, obtained by The Daily Beast, strategists argue that the general's record "immediately blows a hole into the central narrative of Trump: his toughness." They hypothesize that Trump's "fake-macho act falls apart" when pitted against a genuine military leader like Gen. Mattis.
This isn't the first effort to draft him
While American voters may not be familiar with Gen. Mattis, he is renowned amongst veterans and service members. He earned a reputation for being an officer who cares about the little guy. According to Stars and Stripes, the never-married general once "pulled duty" on Christmas Day to allow a young Marine to celebrate the holiday with family.
In 2012, this reputation carried him into the political realm when former Marine Matthew Majors started a Facebook campaign to get voters to write Mattis' name in on their ballots. This write-in campaign never took off because it lacked financial backing.
He doesn't necessarily need to win in November
The current strategy is not for Mattis to win, but to get the general's presence on the ballot to deny Trump or the Democratic nominee the 270 electoral votes necessary to win the presidency outright. If the former military officer could, as a third-party candidate, win several states held by President Obama in 2012, he could effectively block the Democrat from obtaining the required electoral votes. In that case, the incoming House of Representatives would be forced to decide on the next president of the United States. The strategists reason that with the House split between Democrats and Republicans, Gen. Mattis could become the consensus choice.
Strategist Rick Wilson, who is one of the operatives involved in the draft Mattis movement, told The Daily Beast, that the "theme of 2016 is 'all bets are off' and this cycle where the unexpected has become defining characteristic of this election."
"In a moment when American politics on the left and right has been upended, and where the frontrunners of both parties are compromised," the political operative continued, "the time may be upon us where a uniquely qualified, and uniquely credible third-party alternative like Gen. Mattis can take the stage."
He is hesitant about running
Possibly the greatest deterrent to Mattis' bid is the general himself, who is reluctant to enter the 2016 presidential race. In a speech last year, according to The Marine Corps Times, the general assured the audience that he was not an ideal presidential candidate. He suggested his less-than politically correct past would be a hindrance, saying, "I've lived a very colorful life and I've said some things." He continued, "But not once have I taken them back, and I've never apologized for them—and I won't. I like the enemy knowing there are a few guys like me around."
In March, he told Daily Caller reporter Jamie Weinstein that he hadn't heard any talk of him running for president but dismissed the rumors as "merely idle chatter". When Weinstein pressed further on whether he would enter the race if drafted, Mattis said he would "prefer not to discuss [it] further."
Still, conservatives are holding out hope. Many have pointed out that his desire to not "discuss" entering the race is not the same as ruling out the possibility. Donors and operatives hope they can change his mind, but those close to him are skeptical. "It is difficult—if not impossible—to see him accepting being drafted," one insider said.
Some members of the "Never Trump" movement have been warming to the idea of a Mattis' run. In an interview with the The Daily Beast, Weekly Standard editor Bill Kristol admitted he had a "huge respect and admiration" for the general. The Republican commentator continued saying, "I don't know whether [he's] ideally suited for the presidency. But I do know [he's] a hell of a lot more suited for it than Donald Trump." Only time will tell if the efforts to draft Mattis' will be successful.