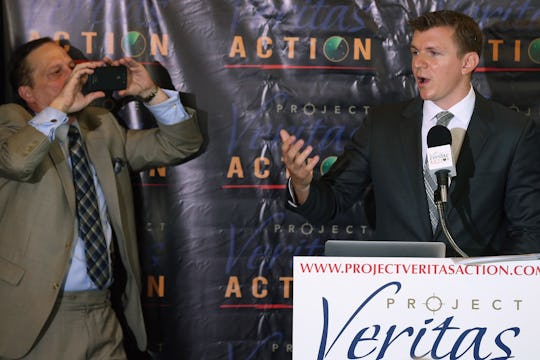 Chip Somodevilla/Getty Images News/Getty Images
Who Is James O'Keefe? The Activist Claims Democrats Have Been Rigging Elections For Years
On Monday, conservative activist and media-maker James O'Keefe released a new video with his organization, Project Veritas, claiming to show Democrats engaging in unsavory tactics to "rig" the election. So who exactly is James O'Keefe? He's been making similar videos for years, and has gotten in trouble in the past for alleged misleading editing, and for reportedly using unsavory tactics of his own.
In the recent Project Veritas video, O'Keefe allegedly shows Democratic activists talking about "infiltrating" Donald Trump rallies. Undercover operatives for O'Keefe captured Scott Foval, formerly the national field director at Americans United For Change, appearing to admit to "bird-dogging," or planting people to agitate at rallies. Foval allegedly described it to the undercover operative by saying,
You put people in the line, at the front which means that they have to get there at six in the morning because they have to get in front at the rally, so that when Trump comes down the rope line, they're the ones asking him the question in front of the reporter, because they're pre-placed there. To funnel that kind of operation, you have to start back with people two weeks ahead of time and train them how to ask questions. You have to train them to bird dog.
That's definitely not good. It's possible that some of the media attention given to unruly Trump supporters in the media was unknowingly covering people who had been planted at those rallies by Democrats. Romper has reached out to Americans United For Change and is awaiting a response.
But wait. As a recent New Yorker article explained, O'Keefe has run into issues in the past with his "bombshell" videos, and many even within the conservative movement have distanced themselves from his dubiously-legal tactics. He films people without their consent. He won't say where the funding for Project Veritas comes from. His videos mostly gain traction on alt-right websites like Breitbart. And he only shows part of the story.
For example, in one of the first videos that made him famous, he filmed an employee at ACORN, a liberal community-organizing group, appearing to provide advice to a supposed pimp and an underaged prostitute, resulting in the employee's termination, and contributing to the shuttering of the whole ACORN organization. But the employee said he called the police afterward, in order to catch O'Keefe in what he assumed was a human trafficking scheme, and reported the apparent crime. According to Forbes,
As soon as O'Keefe and his partner-in-crime left the ACORN location, [the employee] called the police to report the entire incident. It turns out that [the employee] had been playing along with O'Keefe in an effort to ensnare O'Keefe... who he believed [was] in the act of breaking the law by proposing to engage in the importing of young women to become prostitutes.
Although the employee was still punished for the incident, ultimately, a court decided that O'Keefe should pay the employee $100,000 in damages for illegally taping him, reportedly as part of a "nuisance settlement," according to Forbes. (O'Keefe did not immediately respond to a request for comment on the settlement, although in a tweet on Tuesday, he lashed out at a journalist from USA Today, whom he claimed had "slandered" him — she arguably didn't — clarifying to the public, "The ACORN lawsuit was over "invasion of privacy" not "editing.")
Another, more recent example of O'Keefe's alleged troubling behavior: On Tuesday, O'Keefe released a video on Project Veritas showing a Democratic election official saying that he thought voter fraud existed in New York. The problem with the video, though, is that it presents a person's opinion with no actual proof to back it up, then claims it represents the system as a whole. Real scientific studies on voter fraud show that it is incredibly rare. Yet O'Keefe got one person talking about voter fraud at a party, and presented that as proof that the whole election is rigged.
At best, that incident, and the ones before it, were irresponsible journalism. At worst, it might arguably not even be journalism at all.