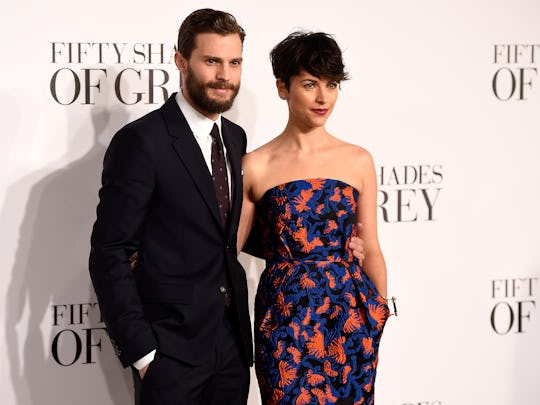 Ian Gavan/Getty Images Entertainment/Getty Images
Who Is Jamie Dornan's Wife? Amelia Warner's Own Career Is Impressive
There's been some exciting news for Fifty Shades of Grey star Jamie Dornan and his wife Amelia Warner. The couple just welcomed their second child, E! Online reported on Wednesday. And while Dornan — who will probably always be Christian Gray to his fans — has become a well-known movie star, Warner's own impressive resume hasn't gotten as much attention. That's a shame because, for those who might be wondering who Jamie Dornan's wife Amelia is, describing her as the wife of one of Hollywood's hunkiest actors doesn't say nearly enough about her. The 33-year-old is a multi-talented star in her own right, and her list of credits is impressive, to say the least.
Of course, the big headline right now is that Warner is a new mom again. After reporting late last year that Dornan and Warner were indeed expecting again, E! confirmed this week that the newest family member had finally arrived. But the super-private couple kept most of the details of the pregnancy and birth under wraps, according to E!. The outlet reported that Warner was spotted in London's Notting Hill neighborhood pushing a stroller that seemed a bit too small (and probably unrealistic) for the couple's toddler daughter.
So, who is Amelia Warner, exactly? Fans of British television, fantasy film, and even British television commercials would certainly be familiar with her work. According to IMDb, Warner starred in several BBC television productions before taking on the role of teenage Fanny Price in the 1999 film adaptation of Jane Austen's Mansfield Park. In 2005, the British-born actress crossed over into mainstream films, appearing opposite Charlize Theron in the fantasy movie Aeon Flux. Warner played Una Flux, Aeon's younger sister.
But Warner might be best known for her musical abilities. For the last decade, she has written and performed a host of successful commercial musical projects as Slow Moving Millie, the singer behind some of Britain's most popular ads.
In a statement on her website, Warner wrote about why music, rather than acting, was the right outlet for her creative journey:
I have always love to play and create melodies. Growing up I became very passionate about films and was part of a local theatre group in London. I worked as an actress in various TV and film projects for 8 years and whilst loving being part of the creative process of making a film was never quite comfortable in my role within it.
I had lots of spare time when I was working as an actress so spent a lot of that time writing, I started writing under the name Slow Moving Millie as it became a bit of a joke within my friends that it had taken me quite so long to work out I should be writing music.
The couple married in 2013, according to E!, and are already happily parenting their 2-year-old daughter, Dulcie. So far, the family hasn't released any photos of the new baby, or any information about when the baby was born, or whether the couple had a boy or a girl, E! Reported. For now, fans have been left to obsess over a few candid photos of a smiling Warner pushing a stylish black and blue Bugaboo stroller. Dornan wasn't in the photos with Warner, but was later seen in Vancouver on the set of the upcoming Fifty Shades sequel, Fifty Shades Darker, slated for release in February 2017.
So, like husband "Christian Gray," Amelia Warner seems to know a bit about keeping people guessing. Well played and congrats to the happy couple.