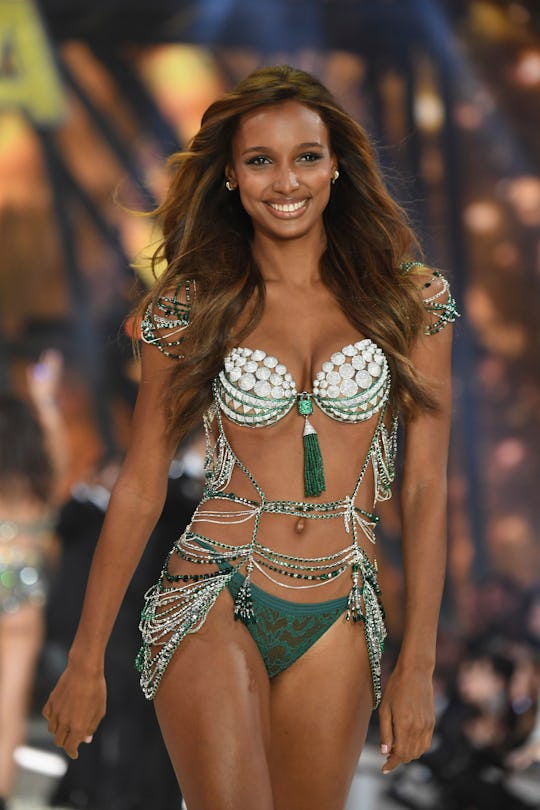 Pascal Le Segretain/Getty Images Entertainment/Getty Images
Who Is Jasmine Tookes? The Victoria's Secret Model's Fashion Show Garb Is Unforgettable
Nothing says December like hot cocoa, holiday lights, sleigh bells ringing, and... Victoria's Secret models? That's right. The 22nd annual Victoria's Secret Fashion Show will air Monday night on CBS, and many viewers who caught the pre-taped extravaganza in advance want to know one thing: Who is Jasmine Tookes? The Victoria's Secret model wore a stunning, unforgettable piece of diamond-encrusted lingerie down the runway in Paris.
The bra in question is the $3 million Fantasy Bra, a Fashion Show staple that was first introduced at the 2nd annual show, according to Teen Vogue. Each year, a different model is selected to showcase the now-famous fashion icon. The bra's full name is the "Bright Night Fantasy Bra," but that moniker has been affectionately shortened over the years. All told, the sparkler showcases 450 carats of diamonds and emeralds. It is set, of course, in 18-karat gold.
This year, 25-year-old Jasmine Tookes claimed the honor of wearing the bra. Tookes' Fantasy Bra-wearing predecessors include modeling icon Tyra Banks and the Brazilian model Alessandra Ambrosio. It seems fitting that Tookes was granted this distinction; She is, after all, a self-proclaimed "competitive person by nature," according to a recent Self interview with the California-born model. Tookes enjoyed gymnastics, volleyball, and softball before being discovered while at a showroom with her mother at the age of 15, according to a profile of Tookes at New York Magazine.
Tookes' modeling career took off in 2010 when she signed contracts with Uggs and Gap, and she's had a world-class career ever since, including walking the runway for Burberry, Jason Wu, Vera Wang, Louis Vuitton, Calvin Klein, and other luminaries of the fashion world. Tookes became a Victoria's Secret angel in 2015. According to a widely-circulated article out this week at The Daily Mail, Tookes' paternal grandfather Luther Tookes is "heartbroken" that Jasmine has had "next to nothing to do" with her father' side of the family since becoming a model.
"When her mom and dad split up, it meant our side of the family were basically forgotten," Luther told The Mail. Whatever the true story might be, it's clear that Tookes remains tight with her mom's family. In fact, her mom and grandmother were in the audience when the fashion show was filmed last Wednesday at the Grand Palais museum complex in Paris, according to The Mail.
When not modeling, Tookes keeps up an impressive workout routine. She even maintains an Instagram account with fellow model Josephine Shriver that documents their fitness routines and advice. Tookes told Self that she works out 5 days per week for 1.5 hours beginning at 7 a.m. "No matter how hard it is, I know how good it makes you feel after," she said. It can be difficult to maintain a workout routine while traveling for modeling gigs, so Tookes even has a "workout pack" that she takes along with her.
"We just want to inspire people to live a healthy lifestyle," Tookes said in a Vogue interview about the purpose behind the workout duo.
If you're looking to see Tookes' carefully-sculpted body wearing the perfectly-sculpted Fantasy Bra, tune in to CBS tonight at 10 p.m. ET.