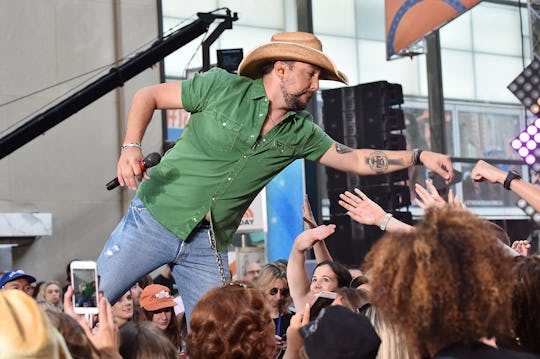 Theo Wargo/Getty Images Entertainment/Getty Images
What You Should Know About Jason Aldean, The Headliner During The Las Vegas Shooting
A few minutes after 10:00 p.m. Las Vegas time, more than 50 people lost their lives, and more than 400 were injured, during what is now the deadliest mass shooting in United States' history. The shooting occurred during the final night of the Route 91 Harvest Festival, as headliner Jason Aldean performed on stage. So, who is Jason Aldean? The well-known country music singer was able to flee the stage moments after the first shots were fired, and now it's safe to say that he has Las Vegas, and those that have lost their lives while listening to his music, on this mind.
Update: As of 6 p.m. ET on Monday, Oct. 2, CNN reports that 59 people have died and over 500 people were injured. Authorities say the suspect had 18 additional firearms, explosives and several thousand rounds of ammo at his home in Mesquite, NV.
The Route 91 Harvest Music festival is a three-day country music festival. Sunday night was the last night of the ongoing concert with an impressive headline, including Eric Church, Sam Hunt, and Big & Rich. The festival was completely sold out, according to the Route 91 Harvest Music Festival website, and it had no age restrictions; anyone, from a small child to an elderly country music fan, could attend. Aldean was performing on the main stage when the now-deceased 64-year-old shooter (who has been identified, but who will not be named by this publication) opened fire on the crowd using an illegal automatic weapon and from the safety of the 34th floor of the Mandalay Bay Hotel and Casino, according to CNN. According to the festival billing, Aldean was the last person scheduled to perform.
While most people's thoughts, prayers, well-wishes, and whatever sympathetic reaction one can have in the moments following a deadly, senseless mass shooting, are reserved for the loved ones of those deceased and those currently fighting for their lives, people are thinking of Aldean, too. The country music star initially played through the gunshots, thinking (like most in the crowd) that fireworks were going off. As people, and Aldean, realized the horrific reality of their situation, Aldean fled the stage and took cover.
Later, Aldean posted on Instragram, saying:
Tonight has been beyond horrific. I still don't know what to say but wanted to let everyone know that Me and my Crew are safe. My Thoughts and prayers go out to everyone involved tonight. It hurts my heart that this would happen to anyone who was just coming out to enjoy what should have been a fun night. #heartbroken #stopthehate
Jake Owen, a country music singer who performed before Aldean, took to Twitter to recount the experience and extend his thoughts and prayers to those who lost their lives.
Jason Aldean was born Jason Aldine Williams on February 28, 1977. Aldean married his wife, Brittany Kerr, in 2015, and has two children: Keeley Williams and Kendyl Williams. According to The Independent, "this was the fourth time the Route 91 festival was held in Las Vegas," and the three-day concert was part of Aldean's 2017 tour. According to Aldean's tour's website, the country music singer is scheduled to play at The Forum in Los Angeles, California, on Oct. 6, and then the Mattress Firm Amphitheater in San Diego, California, on Oct. 7. It's not known, at this time, if Aldean will cancel any following tour dates in the wake of this tragic incident.
Prior to Sunday night's devastating shooting, Aldean posted on his official Twitter account a way to donate to the ongoing Puerto Rico relief efforts. On Sept. 29, the country singer also announced the Country Rising Nashville Gives for Hurricane Relief Concert. The concert features numerous country music stars, including Dierks Bentley, Garth Brooks, Martina McBride, and Carrie Underwood, and is scheduled to be held on Nov. 12.
It seems as though we, as a nation, will never find the point when "enough is enough." According to Newsweek, there were 244 mass shootings in the first 240 days of 2017. From a Kindergarten classroom in Newtown to a country music festival in Las Vegas, gun violence is everyone's problem. It affects everyone. It impacts everyone. Yes, even country music superstars like Jason Aldean.