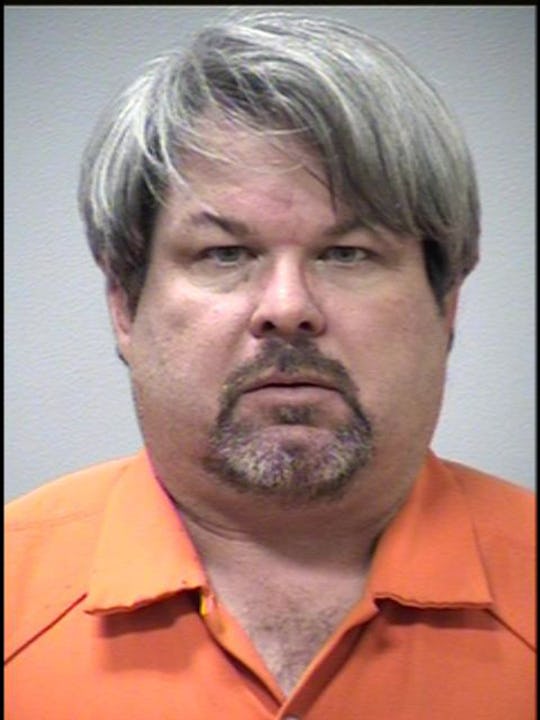 Handout/Getty Images News/Getty Images
Who Is Jason Brian Dalton? The Suspected Kalamazoo Shooter Was An Uber Driver Who Reportedly Searched For Fares In Between Each Attack
A lone gunman in Kalamazoo, Michigan allegedly opened fire on several, randomly selected citizens this weekend, killing at least six and injuring two others in the process. According to police, suspected shooter Jason Brian Dalton, 45, had no clear motive in targeting his alleged victims, which included a mother of three, a father and son, and several customers in a Cracker Barrel parking lot. By Sunday afternoon, an unnamed source with knowledge of the investigation told CNN reporters that the alleged shooter was an Uber driver and had been searching for fares and driving or picking up passengers in between each attack.
The source claimed that Dalton had even sought fares for hours following the string of deadly attacks, which lasted for seven hours. Following a request from CNN, the ride share company confirmed that Dalton had been a certified Uber driver, noting that he had undergone and passed the company's background checks.
"We are horrified and heartbroken at the senseless violence in Kalamazoo, Michigan," Uber Chief Security Officer Joe Sullivan wrote in a statement on Sunday. "Our hearts and prayers are with the families of the victims of this devastating crime and those recovering from injuries. We have reached out to the police to help with their investigation in any way that we can."
According to the Associated Press, Dalton had been in contact with several individuals throughout the evening. Investigators inspecting the alleged shooter's phone said they could not yet identify who those individuals were. Authorities also told the outlet that a gun reportedly recovered from Dalton's car may or may not have belonged to the suspect.
Kalamazoo Public Safety Chief Jeff Hadley said in a statement on Sunday that Dalton had not prior criminal record and that he "was not known" to police, according to CNN. "For all intents and purposes, he was your average Joe," Hadley told the outlet, reiterating that authorities still believed the shootings to be random. "There is this sense of loss, anger, fear — on top of that, how do you tell the families of these victims that they were not targeted for any other reason than they were a target?"
Michigan NBC affiliate WOOD TV8 reported on Sunday that Dalton had dropped off a passenger just prior to one of the alleged shootings, and that the man's fiancée had confirmed Dalton was driving "erratically."
"A little bit ago, my fiancé got a ride with him, and he was driving ... erratically," Mackenzie Waite wrote in a Facebook statement. "They sideswiped a car blowing through the stop sign ... and the driver ... then proceeded to drive 80 miles per hour down [the road], swerving in and out of oncoming traffic." Waite claimed that her fiancé had pleaded with Dalton to pull over but that Dalton had reportedly refused.
CNN reporters also spoke with Dalton's neighbors this week, many of whom seemed surprised that the married father of two could be embroiled in such a horrifying event. "[They were] a typical American family," Sally Pardo told the outlet. "This seems so out of sorts for him," Pardo's husband Gary told reporters. "[He was] quiet ... nice. ... I know he liked guns."
Speaking to NPR's Hansi Wang on Sunday, one passenger recalled being picked up by Dalton on the night of the incident. Climbing into Dalton's vehicle with his wife and parents-in-law, the man said he jokingly mentioned that the police were searching for an Uber driver:
I jokingly said to the driver, "You aren't the shooter, are you?" And he either shook his head or said no, and I said, "Are you sure?" And his response wasn't like what you would expect, like a laugh, like a "No, not me." It was just very calm and quiet. "I'm just tired. No, I'm just tired."
According to a Facebook statement by the Kalamazoo Public Safety department and a county prosecutor, Dalton's demeanor was "even-tempered" when police finally took him into custody. "He was cooperative," the department stated. "Acts committed were intentional."
Pardo told The Detroit Free Press on Sunday that she and her husband felt for both the victims and Dalton's family. "He had two kids, a wife," she said. "That's what's really sad. Those kids have to live with this for the rest of their lives." Pardo then added, "What's even sadder is the victims and their families. For those people to just be out for an evening, enjoying the night. What a horrible way to lose a loved one. It just breaks my heart."